Jim Taiclet started as chief executive and president of Lockheed Martin on 15 June.
As part of a planned succession, he takes over the reins of the USA's largest defence manufacturer from former chief executive Marillyn Hewson, who now will become executive chairman of the board, the company says.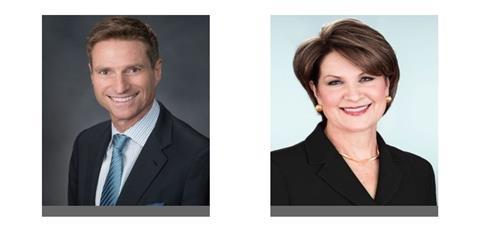 The leadership change was announced in March 2020. Taiclet joined Lockheed's board in 2018 and will continue to serve as a member.
Taiclet's work experience includes time in the telecommunications and aerospace industries, as well as a career as a pilot with the US Air Force.
To take over leadership of Lockheed, he resigned as chairman, president and chief executive of mobile phone broadcast tower company American Tower Corporation in March 2020. He led that company beginning in 2003.
Taiclet was president of Honeywell Aerospace Services prior to working at American Tower. Before that, he was vice-president of engine services at Pratt & Whitney.
Taiclet may be hard-pressed to duplicate Hewson's business track record with Lockheed. The "corporation's market capitalisation increased 280%" under Hewson, the company notes.
Like all aerospace firms, Lockheed is straining to maintain production amid coronavirus-induced social distancing restrictions and disruptions to its supply chain. The F-35 stealth fighter, the company's biggest revenue generator, is expected to fall short of its 2020 production target of 141 examples by 18 to 24 units. The expected delivery shortfall is blamed on smaller suppliers being unable to deliver parts on time amid pandemic disruptions.
The high cost of flying the F-35, about $44,000 per flight hour for the A-model variant, could also cut into future orders of the aircraft. Lockheed has pledged to get the operating cost for the F-35A down to $25,000 per flight hour by 2025, but the US government has been skeptical.
In addition to the change at the top, Lockheed is shuffling leadership in several business areas.
Frank St. John is now the company's chief operating officer. He formerly was the executive vice-president of its Rotary and Mission Systems business area.
Stephanie Hill succeeds St. John as executive vice-president of Rotary and Mission Systems. Previously, Hill was senior vice-president of enterprise business transformation. In that job, she led Lockheed's digital transformation and enterprise information technology teams.
Yvonne Hodge succeeds Hill as senior vice-president of enterprise business transformation. Hodge was vice-president of business innovation, transformation, and enterprise excellence for Lockheed's Space business area.