Raytheon's Joint Precision Approach and Landing System (JPALS) has been deployed on the UK Royal Navy's HMS Queen Elizabeth and Italy's ITS Cavour, the first aircraft carriers outside of the US Navy (USN) to feature the system.
Ahead of operational use the system completed flight testing and Category I and II certifications, Raytheon said on 20 July.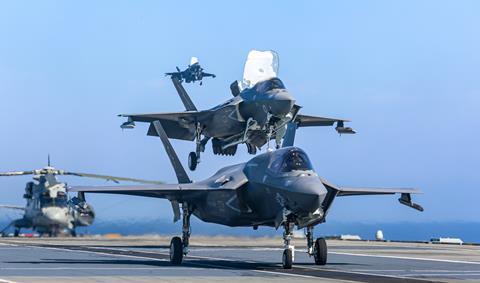 JPALS is pre-installed on all three F-35 variants and the USN's Boeing MQ-25A Stingray unmanned in-flight refuelling tanker. The system is designed to help guide aircraft onto the deck of carriers and amphibious assault ships.
"The Cavour JPALS is the first system to be permanently installed on a foreign ship," says Denis Donohue, vice-president of communications and airspace management systems at Raytheon Intelligence & Space. "JPALS will add significant mission capabilities for our international allies and partners who are flying the F-35."
Raytheon claims JPALS can precisely guide aircraft onto the decks of large and small aircraft carriers in all weather, including in fog and heavy rain. The system can help aircraft land on ships that are pitching and rolling in rough water, up to Sea State 5 conditions, which includes 1.8m (6ft)-tall waves.
The guidance system achieved initial operational capability for the US Marine Corps' (USMC's) F-35B short take-off and vertical landing variant in 2018 and has since been deployed on amphibious assault ships, a sort of miniature aircraft carrier. In May, the USN declared initial operational capability of the system aboard its larger nuclear-powered aircraft carriers.
JPALS is also being used by a USMC F-35B contingent that is deployed aboard the HMS Queen Elizabeth during that aircraft carrier's initial overseas deployment, says Raytheon. It will also be used to help land Italy's F-35Bs aboard ITS Cavour.