L3Harris Technologies has flown the US Army's Airborne Reconnaissance and Electronic Warfare System (ARES) aircraft for the first time.
The initial flight of the aircraft took place in Melbourne, Florida, the company said on 27 August.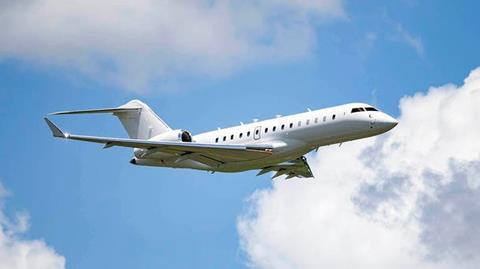 Based on the Bombardier Global 6500 business jet, ARES is an aircraft intended to demonstrate a suite of sensors that can spot ground targets for so-called long-range precision fires, such as artillery and ballistic missiles.
The US Army intends to have the aircraft operate at altitudes above 40,000ft for as long as 14h. From that high perch, ARES will use the High Accuracy Detection and Exploitation System (HADES), a package of electronic intelligence, communications intelligence and radar sensors, to find ground targets.
"The goal is to provide deep-sensing intelligence collection of indicators and warnings, electronic order of battle, and patterns of life for target development," said Dennis Teefy, US Army project director for aerial intelligence sensors, in June. "This will allow stand-off operations to detect, locate, identify, and track critical targets for the ground commander."
The US Army wants ARES to enable a sensor-to-shooter network where targets are quickly spotted and then their coordinates are passed to ground-based artillery and ballistic missile batteries. The service is trying to use computer automation to shorten the time it takes to spot and fire upon targets. The Global 6500's 6,600nm (12,200km) mission range also allows ARES to approach dangerous airspace via far-away airbases, adding an element of safety, the service says.
ARES would replace the US Army's Beechcraft RC-12 Guardrail, MC-12 Enhanced Medium Altitude Reconnaissance and Surveillance System, and De Havilland Canada EO-6C Airborne Reconnaissance Low aircraft.