The F-35 Joint Program Office has awarded Lockheed Martin a sustainment contract for the F-35 that commits the company to reduce the operating cost of the stealth fighter to $30,000 per flight hour by fiscal year 2023, down 10.7% from FY2020.
The contracted cost reduction is part of a $6.6 billion air vehicle sustainment contract granted for FY2021, with options for FY2022 and FY2023, the F-35 Joint Program Office said on 13 September.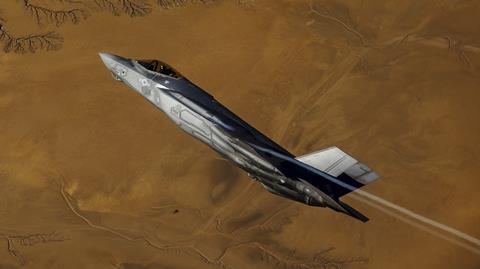 The agreed upon reduction brings Lockheed one step closer to its stated goal of reducing the flying cost of the F-35A to $25,000 per flight hour by FY2025. The company claims hitting that cost goal, as well as related cost reductions for the F-35B and F-35C, will make the Joint Strike Fighter's life cycle cost affordable enough for the US Air Force (USAF), US Navy and US Marine Corps to purchase their full programme of record for the jet. Operating costs are priced in FY2012 dollars and not adjusted for inflation.
General Charles Brown, chief of staff of the USAF, recently said he favours tying purchases of additional F-35As to operating cost goals. It is unknown whether Lockheed's $25,000 per flight hour target would satisfy the service. The USAF plans to buy 1,763 F-35A conventional take-off and landing A models via its programme of record.
The F-35 has been savaged by critics who say its high-operating costs – $33,600 per flight hour in FY2020 – make buying and sustaining a fleet of the stealth aircraft unaffordable. The jet has also been plagued with a litany of manufacturing and maintenance problems that made it at times unable to complete missions.
Lockheed says that it has made good progress improving the aircraft, reducing cost per flight hour by 44% in the past five years and forecasting a reduction of an additional 40% in the next five years. It also notes that the fighter's mission capability rate has improved to about 70% across the global fleet.
'GROUNDWORK' FOR PERFORMANCE-BASED LOGISTICS
In addition to covering sustainment of the US military services, the deal also covers F-35s operated by international development partners and Foreign Military Sales customers.
The agreement covers aircraft sustainment "including on-site support of day-to-day operations from Lockheed Martin field service representatives, engineers, and Autonomic Logistics Information System [ALIS] administrators, along with global enterprise support for sustaining engineering, supply chain, repair and replenishment material, and training," says the Joint Program Office.
ALIS, made by Lockheed, is a ground-based computer that supports F-35 operations. Its software manages the jet's prognostics, maintenance, supply chain, flight operations and training.
"The contract also drives improvements to performance through a refined performance incentive structure focused on year-over-year improvements in full mission capable rates and supply metrics," says the Joint Program Office.
Lockheed has been pushing for sustainment of the F-35 to be moved to a performance-based logistics contract. Under such a contract the company would be granted a flat fee to maintain certain levels of performance on the F-35, such as cost per flight hour and mission capability rates. That differs from traditional maintenance contracts, where the operator would pay for the supply of parts or repair services.
This latest sustainment contract "lays the groundwork for a transition to a supply support and demand reduction performance-based logistics contract in the future," says Lockheed.