Coming off 2020, when the coronavirus pandemic threw production of the F-35 further behind schedule, the F-35 Joint Program Office and Lockheed Martin have agreed to ramp up production of the stealth fighter.
While the number of aircraft to be built in the coming years is reduced from prior goals, a new agreement "ensures predictability and stability", Lockheed said on 27 September.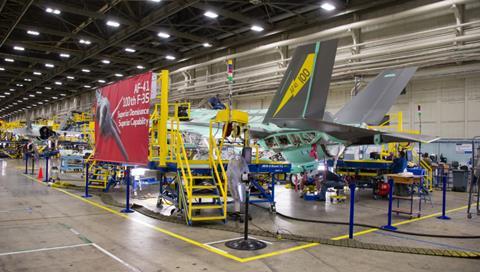 As part of the F-35 production "rebaseline" plan, Lockheed agreed to deliver 133-139 aircraft in 2021. The company aims to produce 151-153 stealth fighters in 2022 and 156 examples annually in 2023 and beyond.
At Lockheed's most-optimistic moment – in January 2020, one month before the pandemic began to hit the USA – the company predicted it would produce 140 aircraft in 2020, about 160 jets in 2021, 165 in 2022 and then as many as 180 aircraft annually in the years following.
Last year, as coronavirus health and safety restrictions disrupted manufacturing at Lockheed and its suppliers, production faltered. The pandemic-induced economic downturn also caused financial trouble for many of the company's small business vendors, exacerbating delays.
As a result, the manufacturer delivered 120 F-35s in 2020. By agreeing to produce 133-139 aircraft in 2021, Lockheed will also miss its prior goal for the year.
In June, Lockheed said it was working on "production smoothing" – a plan to find the most-efficient way to ramp output and play catch up, after falling behind its production goals by 37 to 43 jets in 2020 and 2021. The company said it was aiming to come to an agreement with the Joint Program Office to spread out that backlog over several years.
"Think of that as levelling out the peaks and troughs year-by-year in the production quantities, which will bring a lot of benefits to our factory, to our workforce, to our supply chain, to get that stability over the next four or five years," the company said.
At the time, Lockheed also said it expected annual production to level out somewhere at just less than 169 units annually. However, the recent agreement with the Joint Program Office is significantly below that number, at 156 aircraft annually starting in 2023.
F-35 production was already running behind schedule. But lower annual production means it would take the US Air Force, US Navy and US Marine Corps even longer to buy and receive their full programme of record, which is nearly 2,500 aircraft. The US military services have received 437 examples of the F-35, according to Cirium fleets data.
If the 156 aircraft per year agreement represents a kind of ceiling, deliveries to the US military services could also be crowded out by new international customer orders. In the last couple of years, Poland, Switzerland and the United Arab Emirates have emerged as new buyers. Lockheed is pushing hard to win several other international fighter acquisition competitions.
The F-35 programme of record has not been officially reduced. Indeed, talk of substituting future F-35 purchases with the in-development Next Generation Air Dominance aircraft were dismissed in May by General Charles Brown, USAF chief of staff, who said that the top-secret fighter is aimed at replacing the Lockheed F-22.