Lockheed Martin has committed to putting a defensive laser weapon on an aircraft within five years.
Its Tactical Airborne Laser Weapon System would be used to shoot down incoming tactical missiles, for instance air-to-air missiles or surface-to-air missiles.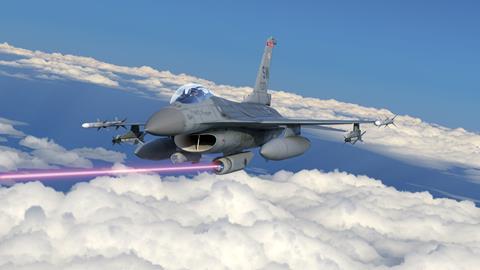 Lockheed is bullish on the podded laser technology and is already investing in production capacity, it says.
"We're making capital investments to be ready to manufacture key high-energy laser components at full-production rates and low cost. We're investing over $20 million in our Orlando-based optical component centre to expand the manufacturing footprint by 40%," says Mark Stephen, leader of Lockheed Martin Missiles and Fire Control's strategic technology development efforts.
"We intend to use this space to establish low-risk production processes that enable for us to build critical laser weapon optical components, some of which have never seen a production line at the rates our customers need."
Lockheed says it is building on its role developing a high-power fiber laser for the US Air Force Research Laboratory's Self-protect High Energy Laser Demonstrator (SHiELD) programme. That effort aimed to put a compact laser on a fighter aircraft by 2021, but has been delayed until 2023 due to technical problems.
Nonetheless, Lockheed is optimistic about the technology and is working to push forward a separate effort.
"We would look at transitioning the capabilities from SHiELD into a laser pod with improved [size, weight, and power consumption] based on the investments that we're making," says Stephen.
The airbone laser would also draw from the firm's experience helping to develop the US Army's Indirect Fire Protection Capability-High Energy Laser and the US Navy's High Energy Laser with Integrated Optical-dazzler and Surveillance effort. Both surface-to-air lasers are designed to shoot down drones or loitering munitions.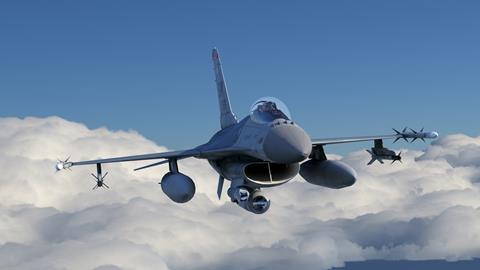 The company adds that its work developing optical sensors, such as the Sniper Advanced Targeting Pod, have given it the confidence to build a laser weapon that can accurately target a high-speed incoming missile.
"The Sniper pod, it has lasers inside of it that have to be maintained onto a target during high-speed manoeuvres in flight," Stephen says. "So the technology and the algorithms we've developed over the last 40 years on those types of electro-optical systems with laser designators in them are directly applicable from a pointing and jitter control standpoint."
To power the high-energy laser, a set of batteries or capacitors would be charged using the aircraft's jet turbine.
Lockheed declines to disclose the range and firing rate of the laser, noting that such factors would depend on the target that the USAF wants to defend against.