Lockheed Martin has delivered to the US Air Force its Airborne High Energy Laser system to be installed and tested on an AC-130J Ghostrider gunship.
The laser completed factory acceptance testing and is being prepared for ground and flight testing, the company said on 6 October.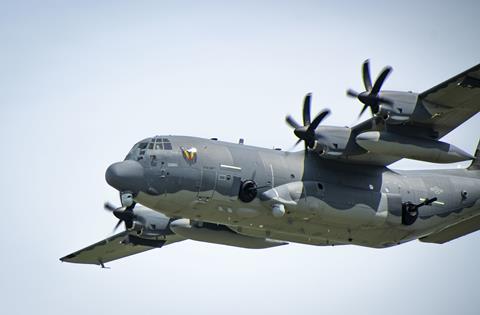 The Air Force Special Operations Command (AFSOC) had planned to flight demonstrate the directed energy system in late fiscal year 2022, according to the Director of Operational Test and Evaluation, the Pentagon's lead weapons tester, in its 2020 annual report.
The AFSOC is interested in firing the 60kW laser at targets on the ground. The futuristic weapon would be added to the AC-130J's arsenal of weapons, which include 30mm and 105mm cannon, precision-guided bombs and AGM-114 Hellfire missiles. The gunship, which is based on the C-130J transport, is used for close air support and air interdiction in support of troops on the ground.
Though the high-energy laser has yet to complete testing, Rick Cordaro, vice-president of Lockheed Martin Advanced Product Solutions, says: "Our technology is ready for fielding today."
Lockheed is also working on several high-energy laser systems that would be used for defensive purposes on ships, aircraft and ground vehicles.
In 2020, the company committed to putting a defensive laser weapon pod on an aircraft by 2025. The firm's "Tactical Airborne Laser Weapon System" would be designed to be small enough to be fielded on lightweight fighters such as the Lockheed F-16. The laser could be used to shoot down incoming tactical missiles, for instance air-to-air or surface-to-air weapons, the company said.