The F-35 Joint Program Office awarded Lockheed Martin a $1.9 billion contract to sustain and support the worldwide fleet of F-35 Lightning II stealth fighters in 2020.
The contract will also fund increasing maintenance capacity for future deliveries of the F-35, says Lockheed Martin. To meet the needs of the growing F-35 fleet, the contract funds hiring industry sustainment experts for base and depot maintenance, pilot and maintainer training, and sustainment engineering efforts, says the company.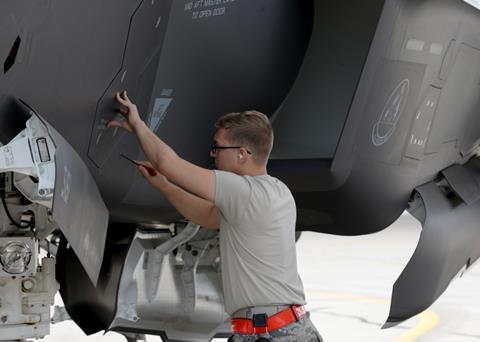 Lockheed Martin expects to sell more than 3,000 F-35s over the lifetime of the aircraft programme. The company had delivered 490 examples of the stealth fighter through the end of 2019.
"The joint government and industry team continues to make significant progress improving readiness rates and reducing sustainment costs," says Greg Ulmer, Lockheed Martin vice-president and general manager of the F-35 programme. "In 2020, we will continue to optimize and advance the sustainment system. We are confident F-35 sustainment costs will be equal to or less than legacy jets."
The F-35 cost on average $35,000 per hour to operate in 2019. But, Lockheed Martin is aiming to reduce that cost to about $25,000 per hour by the year 2025.
Lower flight per hour costs are critical if Lockheed Martin is going to meet its sales goals. Many air forces cannot afford flying the stealth fighter in large numbers at that rate.
Lockheed Martin adds that the F-35 fleet's mission capable rate is averaging more than 65%. That remains well short of the goal to have combat aircraft, such as the F-35, at an 80% mission capable rate by September 2019.
"To meet these goals, the enterprise is conducting supply chain competitions and building supply capacity, synchronizing spare buys, improving parts reliability and maintainability, implementing advanced analytics tools, accelerating modifications of earlier aircraft, and supporting the stand-up of government-led regional warehouses and repair depots," says Lockheed Martin.
Also, in September 2019, the company proposed to the Joint Program Office an idea for a performance-based logistics maintenance contract for the F-35 fleet. The Joint Program Office said it is considering the idea, but hasn't committed to the concept.
Under such performance-based logistics contracts suppliers are awarded a flat fee to maintain a certain level of performance for an aircraft, such as mission capable rate or cost per flight hour, rather than just supply one-off parts or repair services. The aim is to have the contractor manage a greater part of maintenance and sustainment activities so that they can find more efficient ways of operating, passing some savings onto the government and keeping the rest as profit.