Lockheed Martin took a $225 million loss on an unspecified classified programme within its aeronautics business segment during the second quarter of 2021.
The manufacturer offered few details during a recent earnings call and in a financial filing released on 26 July, but says the development programme could eventually be "significant for the company".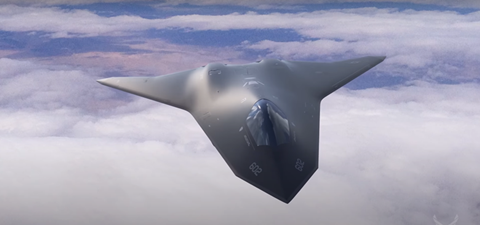 "We have experienced performance issues on a classified fixed-price incentive fee contract that involves highly complex designs and systems integration at our aeronautics business segment," Lockheed says in a financial disclosure filed with the Securities and Exchange Commission on 26 July.
The issue was discovered during a review of the programme with an undisclosed US government customer. The review included "technical requirements, performance to date, remaining work, schedule, and estimated costs to complete the program", the aerospace manufacturer says.
"We also entered into negotiations with our customer, which are ongoing, about contract scope, price, and future courses of action," says Lockheed in its financial filing. "At the conclusion of the review and based on the current negotiations with our customer, it was determined that the total costs to complete the current phase of the programme are expected to exceed the contract price."
The company is bullish on the classified programme's potential, despite its recent financial charge, says chief executive James Taiclet.
"While the classified nature of this programme precludes us from discussing this matter in depth, we can say that our customer's highly attracted to the capabilities that we're developing on their behalf that we're committed to delivering these capabilities and that the long-term potential of this solution is significant for the company," he said during the earnings call.
Ken Possenriede, the firm's chief financial officer, noted during the earnings call that the developmental effort could eventually turn into a production contract.
One important classified programme for the US Air Force – Lockheed's top customer – is the Next-Generation Air Dominance (NGAD) aircraft, a potential replacement for the Lockheed F-22 Raptor. Taiclet declines to say whether his company is involved in developing NGAD, citing government disclosure restrictions around the classified programme.