The US Air Force (USAF) has awarded Lockheed Martin a $25 million contract to help with the service's Palletized Munitions Experimentation Campaign, an effort to test the feasibility of launching cruise missiles from the back of cargo aircraft.
In January 2020, the Air Force Research Laboratory and Air Force Special Operations Command successfully tested releasing mock cruise missiles from the rear cargo ramp of a Lockheed MC-130J Commando II. In September, the Air Force Strategic Development Planning and Experimentation office announced that it had conducted a similar mock cruise missile launch demonstration with a Boeing C-17 Globemaster III airlifter.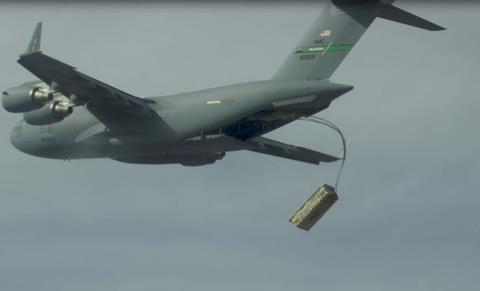 As part of the next phase of the experiment the USAF wants to conduct a "system-level" demonstration in 2021, Lockheed said on 28 October. The company will help develop a modular air-launch system that uses standard cargo airdrop procedures. That system should have the ability to roll on and off cargo aircraft, such as the C-17 and C-130.
Short on bombers and fighters, the USAF is trying to determine if it can launch large numbers of cruise missiles using its cargo aircraft. It began soliciting ideas for palletized munition launch systems in June.
"Initial studies show that airlifters have the potential to deploy large quantities of Joint Air-to-Surface Standoff Missile Extended Range (JASSM-ER) missiles, providing a significant increase in long-range standoff scale and complementing traditional strike and bomber aircraft," says Lockheed. "This innovative approach enables warfighters to launch offensive operations from a greater number of airfields and engage a larger number of near-peer adversarial targets."
The JASSM-ER is a stealthy cruise missile with a range of 540nm (1,000km). It is integrated on the USAF's Boeing B-1B, Northrop Grumman B-2 and Boeing B-52 bombers, as well as Lockheed F-16 and Boeing F-15E fighters.
Ultimately, the service is trying to determine if it would be more cost effective to launch cruise missiles from cargo aircraft or via a clean-sheet "Arsenal Plane", a sort of new bomber. Both stand-off aircraft would fly to the edge of enemy airspace and then lob missiles at targets deep into an adversary's territory, before turning back toward safety.