Lockheed Martin's hypersonic Air-Launched Rapid Response Weapon (ARRW) is wrapping its critical design review.
ARRW wil officially pass the milestone on 27 February and the US Air Force (USAF) is pleased with the missile's development progress, says John Varly, vice-president of hypersonics with Lockheed Martin Missiles and Fire Control. ARRW development is being led by Lockheed Martin Missile and Fire Control in Orlando, Florida.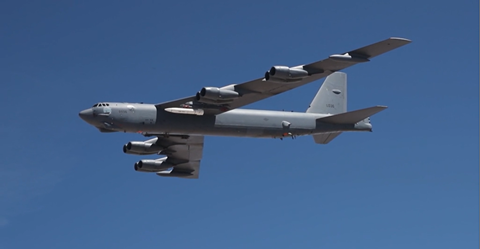 "We just had the Air Force in and they talked to our team and we're getting encouraging signals, especially on the ARRW programme," says Varly.
The USAF awarded a $780 million contract to Lockheed Martin 2017 to develop ARRW. It is a so-called boost glide hypersonic system, a vehicle which uses a rocket to accelerate its payload to high speeds, before the payload separates from the rocket and glides unpowered to its destination at hypersonic speeds up to Mach 20.
The USAF has said it wants ARRW is to reach early operational capability by FY2022.
In June 2019, the service conducted a carry test flight of ARRW on a Boeing B-52 Stratofortress aircraft at Edwards AFB in California. The sensor-only version of the ARRW prototype was carried externally on the bomber to gather data, such as drag and vibration impacts on the weapon itself and on the external carriage equipment of the B-52.
Progress on ARRW comes only a few weeks after the USAF cancelled its contract with Lockheed Martin to develop its Hypersonic Conventional Strike Weapon (HCSW), another boost-glide hypersonic missile. The HCSW development contract was awarded to Lockheed Martin in 2018 for $928 million.
Lockheed Martin declines to say why the USAF cancelled HCSW, citing classification issues as well as a not-yet-received full debriefing from the service.
"I think the Air Force made a very courageous decision. It came earlier than we thought, but, you know, we've got to have the agility as a corporation to meet our customers changing demands," says Varly.
HCSW employees will be reassigned to other hypersonic missile projects, he says.
Lockheed Martin is participating in the development of several hypersonic missiles, including Tactical Boost Glide (TBG), a joint effort between the Defense Advanced Research Projects Agency and USAF. The arrowhead shape of the TBG would have a high lift-to-drag ratio, presumably allowing the missile to glide to targets far away.
Learnings from the TBG programme are to be eventually incorporated into ARRW, says Varly. He declines to discuss specifics of the effort.
"The sensitivities on the TBG programme are higher than others and we've got to be cautious," adds Joe Monaghen, communications manager with Missiles and Fire Control.