The US Navy (USN) has given the green light for the Raytheon-made Next Generation Jammer Mid-Band to start low-rate initial production, after finishing the Milestone C assessment for the programme.
The service gave production approval on 28 June, it said on 29 June. An initial production contract award is anticipated soon.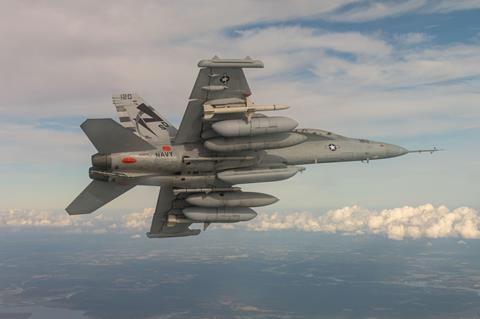 A Milestone C decision is made at the end of the engineering and manufacturing development phase of a programme and assesses a product's readiness to enter the production and deployment phase.
"We're well into development testing," says Annabel Flores, vice-president of electronic warfare systems at Raytheon Intelligence & Space. "It's time to move towards production."
The Next Generation Jammer Mid-Band is to replace the ALQ-99 Tactical Jamming System currently used on the Boeing EA-18G Growler electronic attack aircraft. The new jammer is software controlled and uses an active electronically scanned array, instead of a mechanically scanned array, which allows for faster and more precise broadcast of radio waves.
"This allows operators to non-kinetically attack significantly more targets and at greater distances," says Raytheon.
The USN plans to field three jammers on its EA-18G: low-, mid- and high-band. Last December, L3Harris was awarded an engineering and manufacturing development contract for further work on the Next Generation Jammer Low Band. In May, Northrop Grumman, which offered a competing low-band jammer, reportedly filed a protest of the award decision with the US Government Accountability Office. The high-band system is planned to come at an undisclosed later date.
The Next Generation Jammer Mid-Band is intended for offensive electronic attacks against air-defence and communications systems. Electronic warfare attacks, such as radar jamming, have been used by the USN and US Air Force in past wars to temporarily blind, frustrate and confuse opponents, allowing US forces the opportunity to engage the enemy. The mid-band jammer would attack systems that use the middle band of radio frequencies.
The mid-band jammer programme is a joint-development project between the US Department of Defense and the Australian Department of Defence. The Royal Australian Air Force flies a squadron of 11 examples of the EA-18G.
Australia is a member of the Five Eyes intelligence-sharing alliance with Canada, New Zealand, the UK and the USA. Signals intelligence gathered and shared among those allies – for instance, about the radio frequencies used by radar-guided surface-to-air missile batteries – is critical to programming electronic attack measures on jammers.
Ahead of the Milestone C decision, the Next Generation Jammer Mid-Band completed more than 145h of developmental flight testing and more than 3,100h of anechoic chamber and lab testing at NAS Patuxent River in Maryland and NAS Point Mugu in California, says the USN.