Northrop Grumman is facing off against a joint bid by a BAE Systems-Sierra Nevada team for the US Air Force's (USAF's) Global High-altitude Open-system Sensor Technology (GHOST) programme.
The companies are contracted to each develop a prototype signals intelligence sensor for the service, the teams said in separate announcements on 5 October and 19 October.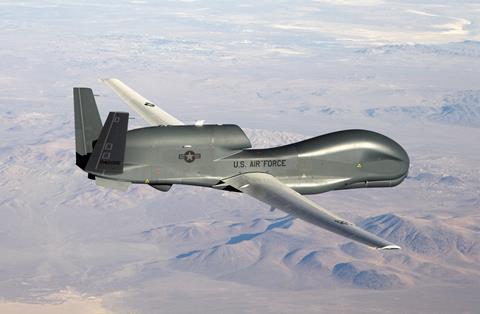 The GHOST system is designed to sniff out radio transmissions to give the USAF and other military branches clues on what their adversary is doing or planning.
The signals intelligence equipment is to be designed with open standards-based hardware and software architecture. It should be able to scale up or down in size to fly on different types of manned and unmanned USAF aircraft.
High-altitude signals intelligence missions are often handled by the manned Lockheed U-2 Dragon Lady spyplane and Northrop RQ-4 Global Hawk unmanned air vehicle.
In the initial configuration, the GHOST sensor will be housed inside a pod that would be attached underneath aircraft, said Jeremy Shock, USAF signals intelligence branch chief, in September.
"We are designing it to be platform agnostic, or agile, so it is easily transferable from one airborne platform to another based on however much size, weight, and power, or SWAP, is available," he said.
The USAF wants to use open standards so that the signals intelligence equipment can be easily integrated with other systems, allowing for information to be passed quickly.
"We want common interfaces down to the ground to send common messages down so that they can easily be shared throughout the intel community," Shock said.