Northrop Grumman has signed a memorandum of understanding with South Korean defence companies LIG Nex1 and Huneed to develop a "Joint Surveillance Target Attack Radar System – Korea (JSTARS-K)" jet.
The airborne battle management command and control aircraft would be based on the Gulfstream G550 business jet, Northrop said on 20 October. It is intended for South Korea's joint moving target surveillance and control aircraft requirement.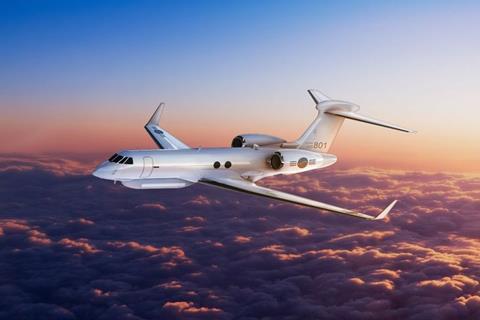 Northrop would serve as the prime systems integrator for the JSTARS-K project. Previously, Northrop developed and manufactured the US Air Force (USAF) E-8 JSTARS.
The G550, upon which the JSTARS-K would be based, is used for a variety of military special missions, including command and control, signals intelligence and electronic warfare applications. The 19-passenger business jet has a peak cruise altitude of 51,000ft, a maximum cruise speed of 590kt (1,090km/h) and a maximum range of 6,750nm (12,500km).
In 2020, Gulfstream announced it had ended production of the G550, so it is not clear how the jet would be the basis for the JSTARS-K aircraft. The manufacturer also makes similarly-sized G500 and G600 aircraft. Northrop did not immediately respond to a request for comment.
Business jets, which can fly for long periods at high altitudes, are increasingly seen as potential platforms for special military missions, especially as electronics have become smaller and more capable. Previously, special mission aircraft were based on larger commercial airliners. For example, the USAF's E-8 JSTARS, introduced into service in 1991, is based on the Boeing 707-300 jet.
The service has 17 examples of the E-8 in its fleet and in recent years has debated how to replace the aircraft, including possibly dispersing bits and pieces of the aircraft's command-and-control work across a network of aircraft and ground stations.
L3Harris Technologies is also using the G550 business jet as the basis for the USAF's EC-37B Compass Call electronic warfare aircraft. That aircraft, which is replacing the service's ageing fleet of Lockheed Martin EC-130H turboprop Compass Call aircraft, flew for the first time this October.