After suffering delays, including problems caused by the coronavirus, the US Department of Defense (DoD) believes the Lockheed Martin F-35 Lightning II will be ready for a full-rate production decision by March 2021.
The Joint Strike Fighter programme office was most-recently aiming to finish the stealth aircraft's initial operational test and evaluation by December 2020. However, Centers for Disease Control and Prevention (CDC) guidelines on social distancing has made it more difficult for the Pentagon to get people in the same room to assess the aircraft.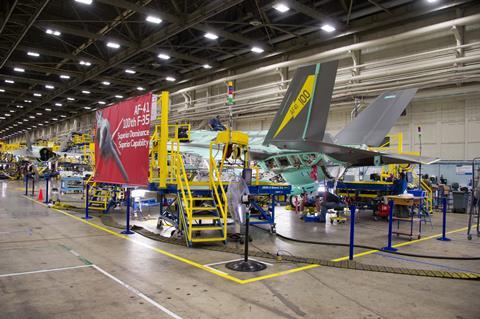 Critically, the F-35's capabilities and vulnerabilities need to be assessed in the Joint Simulation Environment software programme. The DoD plans to use the simulator to test the stealth fighter against a range of hypothetical air and surface threats, including those it expects to emerge within the next 10 years.
Ellen Lord, undersecretary of defense for acquisition and sustainment, said on 20 August that she is confident the F-35 will complete its testing by March 2021.
"We have the entire government industry team focused on that. There have been setbacks within the [Joint Simulation Environment] from Covid. It is a very close working environment. The team, very quickly, moved out to follow all CDC guidelines to make sure we had a safe working environment. They readjusted. We have operations there at least six days a week, if not, seven days a week and almost 24 hours [a day], so Covid has been significant."
Lord says she plans to visit the Joint Simulation Environment installation at NAS Patuxent River in Maryland next week to check on testing progress.
Lockheed produced 134 examples of the F-35 in 2019. It had projected it would hit peak production of 180 units in 2024. Despite those large production lots, the F-35 is not technically in full-rate production yet.
So far, production contracts to Lockheed have been granted on a yearly basis. However, completing the initial operational test and evaluation and being granted a full-rate production decision by the US government would allow the Joint Strike Fighter programme office and the company to negotiate multi-year contracts. By law, the DoD cannot grant multi-year contracts without an aircraft having finished testing.
Once testing is complete, the multi-year contract would give the Pentagon a bulk discount on the aircraft and Lockheed a contractual guarantee of business for several years. The full-rate production decision is also seen as a final stamp of approval on the F-35 by the airframer.