Pratt & Whitney has been awarded a $1.5 million contract by the F-35 Joint Program Office to study engine upgrade requirements for Block 4.2 and later iterations of the stealth fighter.
The company plans to conclude the assessment for the improvements needed for its F135 engine by March 2021, it said on 21 October. The study is focused on what is needed to improve the up and away thrust, powered lift thrust, electrical power and thermal management capacity, as well as what it would take to reduce fuel burn of the engine.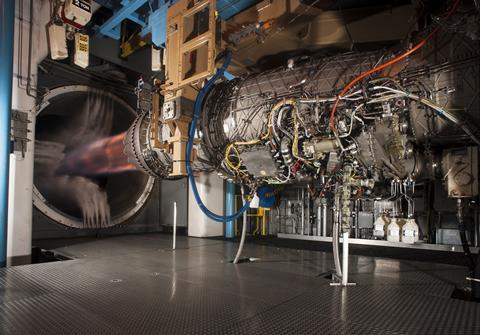 P&W's prototyping arm, Gatorworks, plans to produce conceptual design and analysis of multiple F135 engine enhancement package options that could be added over time.
"This award is a significant milestone for the programme and the warfighter, as we look to ensure the F135 propulsion system continues to provide the foundation for all air vehicle capability requirements over the full lifecycle of the F-35," says Matthew Bromberg, president of P&W Military Engines. "As we look to the future, growth in aircraft capability must be met with matched propulsion modernisation. Fortunately, the F135 has ample design margin to support agile and affordable upgrades that will enable all F-35 operators to keep pace with evolving threat environments."
It is not clear what technologies could be added to the F135 to improve its performance.
The company mentions leveraging its work on "next-generation adaptive propulsion technologies", which is part of a separate engine replacement development effort, called the Adaptive Engine Transition programme.
In 2018, P&W was awarded a $437 million contract by the US Air Force (USAF) to further develop its adaptive jet engine design, a new sort of turbine that can change the volume of air that flows to its core or bypass areas by opening and channelling air from a third stream. The USAF has said such a design could improve fuel consumption of an engine by 25%, which would increase an aircraft's unrefuelled range. The extra air flow might also enable more thrust, or could be used for cooling purposes.
The Adaptive Engine Transition programme was intended to power the USAF's sixth-generation fighter, the successor to the Lockheed F-22, and might also replace the F135 engine in the F-35 in the mid-2020s. P&W says it may draw upon technologies developed as part of that programme, but would not be assessing new adaptive engines as part of this specific study.
In parallel to F135 upgrade options, the company is continuing to develop new engines via the Adaptive Engine Transition programme, it says. "These activities will inform development of the F-35 Propulsion Roadmap for 2035 which will be offered to US services and other F-35 partners for consideration later this year or in 2021," says P&W.
The recently contracted F135 upgrade study seems to more closely resembles proposals put forward by P&W in 2017 and 2018.
In 2017, the company said it could offer drop-in thrust or fuel efficiency upgrades for the F135 in concert with the F-35's Block 4.2 upgrade package. That so-called Growth Option 1.0 idea would improve the F135 engine's thrust by 6% to 10% depending on the aircraft's flight condition or reduce fuel consumption by 5%. The F135 generates 40,000lb-thrust (178kN) and the F-35A's combat radius is 590nm (1,090km).
Changes as part of the Growth Option 1.0 would be limited to the F135 power module: the compressor, combustor and turbine. P&W claims that the limited nature of the changes would allow the upgrade programme to happen during routine depot maintenance.
In 2018, P&W followed up with Growth Option 2.0, another drop-in upgrade proposal that included the Growth Option 1.0 hardware, plus undisclosed adaptive engine technologies that would improve the F135's electrical power generation and thermal management systems.
Improvements to engine electrical power generation and thermal management could be useful for planned F-35 upgrades including better electronic warfare capabilities, such as enhanced radar and radio communications jamming. Lockheed also said in September that it believes it could field a defensive laser on its F-16 fighter within five years. If such a weapon were to be fielded on the F-35 additional electrical power generation and a better thermal management system would be helpful.
Update: This article was changed on 22 October with additional comments and context from P&W.