Raytheon Missiles & Defense performed a digital fit check of its AIM-120 Advanced Medium Range Air-to-Air Missile-Extended Range (AMRAAM-ER) variant inside the internal carriage of a Lockheed Martin F-35 stealth fighter.
The engineering effort confirms speculation that the company is looking at offering the extended-range variant not only as a surface-to-air weapon, but also as an air-to-air missile. The disclosure also comes after Raytheon and Kongsberg of Norway completed the first live-fire test of the AMRAAM-ER from the National Advanced Surface-to-Air Missile System (NASAMS) on 12 May at Andoya Space Center in Norway.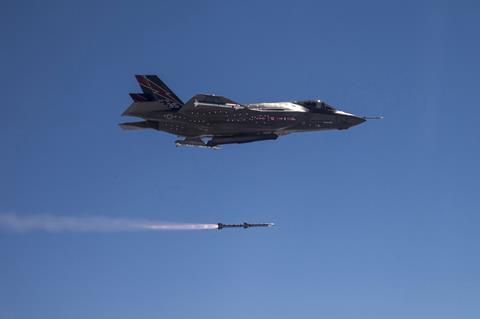 AMRAAM-ER is about 16in (40.6cm) longer than the 12ft (3.7m) conventional AMRAAM, Steve Dickman, Raytheon's senior director for air dominance, said on 19 May. The variant is about 3in wider in diameter than the 7in-diameter conventional missile.
"So, that's where you get your additional motor capability: a little bit of length and a little bit of diameter," he says.
The baseline extended-range variant in production today, intended for the NASAMS battery, uses a Raytheon AMRAAM-C7 guidance section, and RIM-162 Evolved SeaSparrow missile rocket motor and control actuation system, Raytheon says. The next production version of AMRAAM-ER will incorporate an AMRAAM-C8 guidance section and a new rocket motor made by Nammo of Norway, along with a new control actuation system made by Kongsberg.
Dickman says the company believes the US Air Force's (USAF's) F-35A could field two examples of the larger missile, one in each internal weapons bay. The F-35A can carry four of the smaller conventional AMRAAMs; two in each internal weapons bay.
Raytheon says it has not yet determined whether the AMRAAM-ER would fit inside the internal weapons bay of the Lockheed F-22 fighter. Presumably, the extended-range variant could also be more easily integrated under the wings and centreline of fourth-generation combat aircraft already fielding the conventional AMRAAM, such as the Boeing EA-18G, F/A-18E/F Super Hornet and F-15, Eurofighter Typhoon, Lockheed F-16, and Saab Gripen.
"Air-launched ARMAAM-ER is not a programme of record. However, we have had discussions with potential domestic and international customers about the capability and continue to fund its development through [internal research and development]", says Raytheon. "A capability could be delivered three to four years after contract award. This timeline includes an estimate of one year for the operational testing of the new capability."
When fired from the NASAMS ground battery, AMRAAM-ER has a 50% increase in range and 70% increase in altitude over the AIM-120 AMRAAM-C7, according to Kongsberg. It is not clear how that would translate to air-to-air range or performance measures. Raytheon declines to comment on details of performance.
"The AMRAAM-ER design will provide the same or similar target engagement performance as the AMRAAM-C7," the company says. "The larger rocket motor provides greater range and altitude."
The range of the AIM-120D has been reported to be about 87nm (161km). However, the exact range of the missile is classified, due to concerns about giving away information about combat aircraft limitations.
NEW SOFTWARE AND HARDWARE ADDS RANGE
Raytheon's efforts to develop an air-to-air variant of the AMRAAM-ER comes after the company demonstrated the ability to add range to its conventional AMRAAM, some 30 years after the USAF declared the missile had initial operating capability.
The USAF claims that it achieved the longest known air-to-air missile shot in March using an AIM-120D AMRAAM. As part of that test, an F-15C fired the missile at a BQM-167 subscale target drone and achieved a "kill" at an undisclosed distance.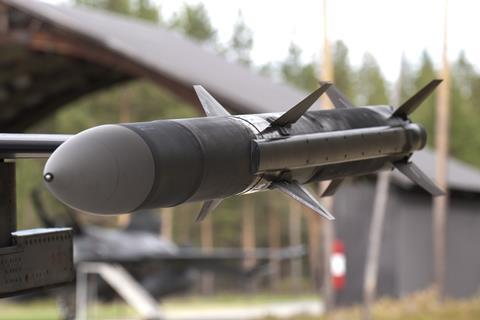 Raytheon is finding ways to unlock greater range for the AIM-120D with rolling hardware and software updates, says Dickman.
"There's inherent capability beyond what they typically used it at," he says. "And, there's probably some things we could do to change flight profiles, for example, to even squeeze more range out of it. But, those are the [trade studies] that we're doing."
Nearly 25,000 examples of AMRAAM have been produced for air forces the world over. All US fighter aircraft use it as the primary beyond-visual-range missile. However, AMRAAM is facing competition from newer weapons, including MBDA's Meteor and Lockheed's in-development AIM-260 Joint Advanced Tactical Missile.
The Meteor entered service in 2016 and is thought to have a range greater than the AMRAAM. The missile gets its longer reach from a solid-fueled ramjet motor, which allows it to maintain powered flight in its final stages. Solid rocket-powered missiles, like the AMRAAM, accelerate and then burn out quickly, meaning in the later stages of flight the weapon is effectively coasting – albeit at supersonic speeds – a scenario in which a target aircraft might be able to out-manoeuvre it.
The Lockheed AIM-260 is the USAF's intended replacement for the AIM-120 AMRAAM. The missile's range and propulsion are classified. It is partly a response to China's PL-15 missile, which is thought to have a range close to 108nm.
The USAF has said that it wants AIM-260 to reach initial operating capability as soon as 2022. Upon successful ramp-up of production of the new missile, it would buy its last AMRAAMs in fiscal year 2026, the service has said.
Still, even if production of the AMRAAM winds down in the mid-2020s, the missile will likely be in the inventories of world air forces for years after that. In March, the Pentagon granted Raytheon a $74 million contract to support flight testing and integration of AMRAAM into current fighters and "next-generation platforms that may join the air force or navy inventory before the end of fiscal 2029".