Raytheon has unveiled a new compact gallium nitride active electronically scanned array radar (AESA) that it claims will cost about half the price of fire-control radars on the market today.
Lower-cost, smaller AESA radars are a critical enabling technology for several aircraft types, including "attritable" unmanned air vehicles (UAVs) and light-attack aircraft. Both types have emerged in recent years as low-cost solutions for aerial combat.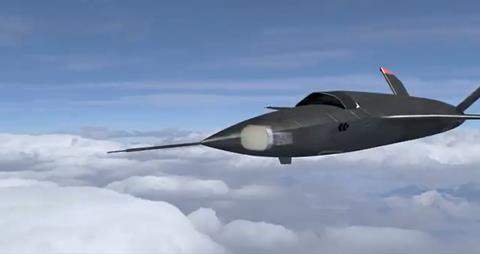 Raytheon's yet-to-be-named compact AESA radar weighs about 59kg (130lb), about one third as much as radars on sale currently, says Dick Sandfier, strategic pursuits and business creation capture executive at Raytheon Intelligence & Space. The radar is roughly 71 x 37cm (28 x 14.5in) and is air cooled.
"We believe that there was a true need for a small, compact AESA that would meet size, weight, power and cooling constraint requirements," he says. "We believe that there is a rather large market."
The company says the smaller AESA would be a good fit for small jets, including advanced jet trainers such as Boeing's T-7A Red Hawk and Korea Aerospace Industries' T-50 Golden Eagle (both have been floated as possible light-attack aircraft by their manufacturers). The radar could be useful on Northrop's F-5 Tiger in an adversary training role, Sandfier adds.
The compact AESA could find a role in the emerging market for attritable UAVs: a novel type of aircraft designed to be cheap enough to be lost in combat and then quickly and affordably replaced. The US Air Force Research Laboratory's (AFRL) Skyborg attritable concept is a potential fit, Sandfier says.
The US Army's Future Attack Reconnaissance Aircraft (the replacement of the retired Bell OH-58 Kiowa scout) and Future Long Range Assault Aircraft (replacement for the Sikorsky UH-60 Black Hawk utility helicopter) are candidates as well, says Sandfier.
GALLIUM NITRIDE
Sandfier claims the compact AESA ought to have better performance than the radar installed on the US Air Force's (USAF) F-16 fleet, the Northrop Grumman SABR APG-83 AESA.
"The compact AESA solution draws less power from the platform, which in turn allows for the radar to deliver targeting and tracking capabilities on par, if not better than, the bigger, heavier APG-83 AESA radar," he says. "The compact AESA solution has digital beam forming and steering, multimode functionality and interleaved ground and air targeting".
Radars that use gallium nitride transistors – the subcomponent upon which Raytheon's compact AESA is based – are able to operate at higher temperatures than those using conventional gallium arsenide components. That allows the amount of electric power pumped into the AESA's radio transmitters to be increased.
Gallium nitride enables AESA radars to "emit five times the radio frequency power of previous technologies", says Raytheon. "For radars, that means better search capability and less power consumption, all at a smaller size."
The compact AESA is air-cooled. But Sandfier says, "while it's not what we would want to do, we absolutely could have it liquid cooled for whatever application that might be". Liquid coolant would allow for a further power boost to the radar, which could increase its active detection range.
LESS EXPENSIVE
Because AESA radars electronically steer individual radio antenna, rather than move antenna mechanically, the systems can transmit in different directions – and at different frequencies – at once. That allows them to quickly and simultaneously detect multiple aircraft.
Raytheon's compact AESA has a 960-element array, but its design can be scaled up to 2,400 elements, Sandfier says. More elements would likely allow for more simultaneous detection in more directions, as well as a higher-definition picture of the surrounding airspace.
AESA radars can also operate passively, listening for adversary radar transmissions. This allows a defending aircraft to detect an adversary's active radar some time before being seen themselves. (Active radar detection requires enough signal strength for radar waves to travel to a target and bounce back to an aircraft's antenna. But passive detection requires less power because radio waves need only travel half the distance, from the transmitting adversary aircraft to the listening defender.)
The use of passive AESA is a cornerstone of fifth-generation aircraft which combine stealth characteristics with passive sensors to hide from adversaries. The Lockheed Martin F-35 multiplies that advantage by sharing target information gathered passively with other F-35s via its Multifunction Advanced Data Link. When the data is fused it creates a more-accurate picture of the battlespace.
The USAF is looking to take this battlespace data-sharing concept further with its Advanced Battlefield Management System (ABMS). The service envisions that this in-development network would allow several different types of aircraft to share data, allowing combat pilots to quickly size up a situation and get a jump on the enemy.
So far, the experimental network has shown the ability to share data between the F-35, Lockheed F-22 Raptor and Kratos Defense XQ-58A Valkyrie UAV, a candidate for the AFRL's Skyborg attritable aircraft programme. Sandfier says Raytheon's compact AESA could have a role in ABMS "to get a broader picture of what's going on".
LOWER COST
Assembly of the compact AESA would not be done by Raytheon but would instead be outsourced, says Sandfier. That ought to save costs, he says.
Given the USAF's low-cost goals for attritable aircraft – priced at $2-20 million – inexpensive components are important. Second to the jet engine, radar is often one of the most-expensive components of an aircraft. The ability to affordably field a large number of AESA sensors across a fleet of networked attritable UAVs could greatly increase an air force's awareness.
For advanced jet trainers that might be reconfigured into light combat aircraft, such as the T-7A and T-50, cost is also a leading consideration. A low-cost AESA might make these jets more attractive to price-sensitive air forces that otherwise would have to pay for more sophisticated light fighters, such as the F-16 or Saab Gripen.
Possibilities aside, Raytheon is not ready to field its compact AESA. The radar is not likely to be named until October. Initial flight tests of the system aboard the Raytheon Multi-program Testbed, a modified Boeing 727 airliner, are planned to start in 2022.
Updated on 29 September with additional comments from Raytheon