Start-up Red 6 has won a contract to install its augmented reality headset into multiple US Air Force (USAF) Northrop T-38 Talon jet trainers.
The company aims to complete the integration into the first jet within about 12 to 18 months, with additional aircraft coming after that, Daniel Robinson, chief executive of Red 6 said on 21 September.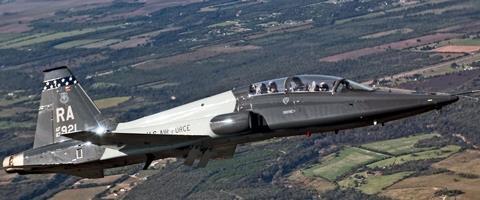 The start-up's augmented reality headset is designed to train pilots how to dogfight virtually, while flying in actual trainer or combat aircraft. Adversary aircraft are synthetic projections in the augmented reality headset. The system is capable of training multiple pilots at once in the same simulation.
"Think of it a bit like a multiplayer sort of game, played up in the sky, where we're connecting multiple real entities into the same game space, so they can all visualise and see exactly what each other's seeing," says Robinson.
The system also allows combat pilot trainees to practice tactics for beyond-visual-range encounters with enemy aircraft. In the case of the T-38, which does not have a radar, the system simulates radar contacts on an in-cockpit tablet computer. Red 6 plans to later integrate its headset into a Lockheed Martin F-16 fighter, where it will be able to simulate contacts on the jet's radar display and will be connected to other mission systems, says Robinson.
The USAF is interested in Red 6's system to save money that it would otherwise have to spend on adversary air support; the use of private or service-owned aircraft for mock dogfighting. The system could also be used to teach flight training, including tricky manoeuvres such as in-flight refuelling.
Dogfighting against a real aircraft is a fast and chaotic experience. That is challenging for augmented reality programs to handle as rapid head movements might outpace the headset's ability to generate and project virtual images. Yet, Red 6 says it has mostly solved that problem.
"For latency to be absolutely imperceptible to the human being, it's around the sub-20 millisecond mark. We're already approaching about 40 milliseconds of latency, which is damn near imperceptible," says Robinson. "We're very close. The latency is one of the major technical achievements we're incredibly proud of."