Rostec State Corporation plans to demonstrate the S-111 communications system for the Sukhoi Su-57 stealth fighter at the MAKS 2021 air show.
The digital, high-bandwidth radio is made by subsidiary Ruselectronics and is intended to be incorporated into other Russian combat aircraft, including fighters, bombers, unmanned air vehicles and attack helicopters. It is supposed to have a reach of up to 810nm (1,500km), Rostec has said.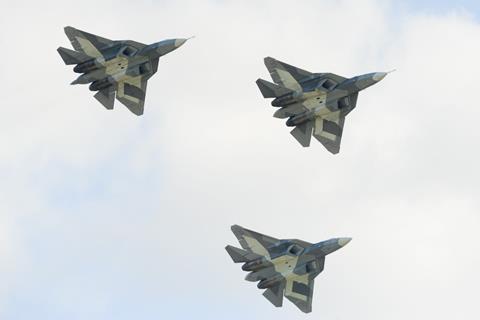 "The equipment provides telephone radio communication and aircraft data exchange with other aircraft for various purposes, as well as with ground, air and surface control points," Rostec said on 19 July. "The equipment uses the latest technology for high-speed information transmission and uses advanced network solutions."
Rostec has not disclosed how it will demonstrate the capabilities of the S-111 system.
S-111 certification tests were supposed to be finished by the end of 2017, according to state-run news agency TASS. However, little has been published about the communication system since and it is not clear how far development of the equipment has come.
The sort of networked warfare – the ability to quickly pass information around the battlefield – that the S-111 promises to enable is a hallmark of fifth-generation fighter aircraft, including the rival Lockheed Martin F-35. The demonstration of the S-111 equipment is an indication that Russia sees networked warfare as an important part of the Su-57's role.
More generally, networking aircraft, ground vehicles and ships is at the heart of the USA's and its allies' war plans. In theory, the ability to quickly pass information around the battlefield would shorten the kill chain; a process by which a target is spotted and then attacked.
The Russian air force has 76 Su-57s on order. Moscow is looking for its first customer of the export version of the stealth fighter, the Su-57E.
Correction: The article was changed on 20 July to note that Russia has ordered 76 examples of the Su-57.