The Royal Canadian Air Force fighter competition was delayed until 31 July, one month later than originally planned, due to disruptions caused by the coronavirus pandemic.
The Future Fighter Capability Project proposal submission deadline was pushed back at the request of potential bidders in the competition, says Public Service and Procurement Canada on 11 May.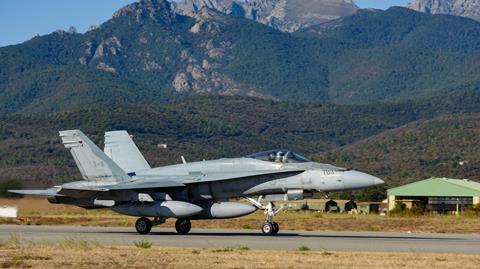 The exact nature of the delay was not disclosed, but aerospace manufacturers have struggled with quarantine travel restrictions and social distancing requirements which have made it difficult to bring full teams of employees into their offices.
"The COVID-19 pandemic is presenting numerous challenges for businesses and their workforce, including the eligible suppliers for the Future Fighter Capability Project," says Public Service and Procurement Canada. "The unprecedented situation has impacted proposal finalisation. To support our commitment to conducting an open, fair, and transparent competition, the extension will ensure all suppliers are able to submit their most competitive offer to Canada."
The delay comes as Ottawa made a $70.1 million payment to the USA's Joint Strike Fighter programme on 28 April. Canada has participated in the programme since 1997 and has paid $541 million into the effort.
"This participation provides Canadian industry with contract opportunities that are only available to programme participants," says Canada's Department of National Defence. "As of December 2019, Canada's participation in the programme has allowed companies in Canada to secure $1.8 billion in contracts."
Despite paying into the Joint Strike Fighter programme, Canada has not purchased its sole product, the Lockheed Martin F-35 Lightning II. The country has wavered in its commitment to the stealth fighter due to its initially high cost. In recent years, the cost of the F-35A has fallen to $77.9 million per unit, though its operating cost remains high at $35,000 per hour.
Undecided on the F-35, Canada is hosting the Future Fighter Capability Project to pick an advanced jet to replace its aging fleet of Boeing CF-18 Hornets. The country wants to buy 88 fighter aircraft.
Three companies are offering aircraft for the programme: Saab is offering the Gripen E; Lockheed Martin is offering the F-35; and Boeing is offering the F/A-18E/F Super Hornet.
Dassault's bid offering the Rafale and Eurofighter's bid offering the Typhoon were withdrawn.
In addition to aircraft, the programme includes related equipment and weapons, as well as training and sustainment services. National Defence values the contract to be worth $15 to $19 billion.
After bids are received by 31 July, proposals will be evaluated and negotiated between 2020 and 2022. A contract is anticipated in 2022, with the first aircraft to be delivered by 2025, says National Defence.