The Royal Canadian Air Force (RCAF) plans to upgrade some of its ageing Boeing CF-18A Hornets with Raytheon Technologies' APG-79(V)4 active electronically scanned array (AESA) radars.
The US Department of Defense granted Raytheon a $140 million Foreign Military Sales contract to supply 36 examples of the system, it said on 20 September. Deliveries are anticipated to be finished by March 2024.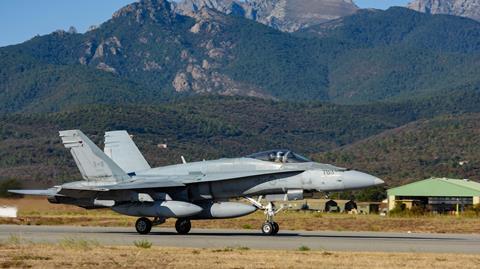 The APG-79(V)4 radar, which uses gallium nitride components, is more capable and reliable than older radars, says Raytheon.
"This upgrade to AESA radars with [gallium nitride] supports longer detection ranges and multiple-target tracking," says Eric Ditmars, Raytheon Intelligence & Space vice-president of secure sensor solutions.
The radar's targeting capability is enhanced for a variety of roles, including air-to-air, maritime and air-to-surface strike applications, says the company.
The CF-18A is based on the F/A-18A "Classic Hornet" manufactured originally by McDonnell Douglas. In 2019, the US Marine Corps signed a contract to upgrade its Classic Hornet fleet with APG-79(V)4s.
Raytheon believes the sale to Ottawa opens opportunities to sell the system to other international customers.
"The expansion to support the Royal Canadian Air Force allows [Raytheon] to outfit allies with the same advanced technology provided to US military aircrews," the company says.
The RCAF's 60 CF-18As are, on average, 35 years old, according to Cirium fleets data. The service is upgrading a portion of those through its "Hornet Extension Project", which aims to expand the usefulness of the jets until Canada decides to buy new fighters.
Through its Future Fighter Capability Project, Canada's Department of National Defence is looking to buy 88 advanced fighters, and related equipment and services, for an estimated C$15-19 billion ($11.9-15.1 billion). The RCAF intends to choose in 2022 between the F/A-18E/F Super Hornet, Lockheed Martin F-35 and Saab Gripen E. The first aircraft is anticipated to be delivered by 2025.