Saab is offering to open two new aerospace centres as part of its Gripen E proposal for Canada's Future Fighter Capability Project.
The aerospace facilities, the Gripen Centre and the Aerospace Research & Development Centre, would be based in the greater Montreal region, the company announced at Aero Montreal's International Aerospace Innovation Forum 2020 on 14 December.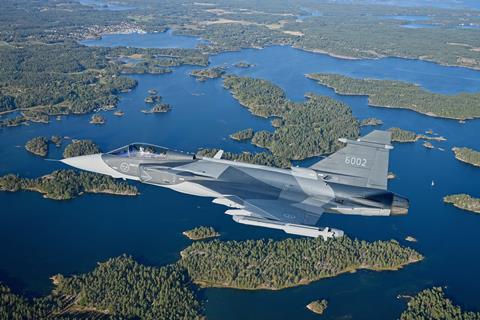 Mission system software and hardware development, as well as integration, for the proposed Royal Canadian Air Force (RCAF) Gripen E would be done at the Gripen Centre.
The Aerospace Research & Development Centre would focus on a variety of aerospace technologies, including automation, artificial intelligence and "greening" technologies. That work may or may not be directly related to the Gripen E. Rather, the research and development would focus on next-generation aerospace technologies more generally.
Saab is also in talks with undisclosed local universities about partnerships related to the aerospace centres, it says.
Saab has only about 50 people working in Canada currently, across various businesses such as maritime traffic management and army training and simulation work. However, between the two aerospace centres, the company anticipates at least 3,000 people being directly employed.
The RCAF is looking to buy 88 advanced fighters to replace its fleet of Boeing CF-18 Hornets. Canada's Department of National Defence estimates acquisition of the aircraft, related equipment and entry into service will cost C$15-19 billion ($11.8-14.9 billion).
A contract is scheduled to be awarded in 2022 after evaluation by the RCAF. The air force wants the first jets received as soon as 2025. The new fleet is expected to fly beyond 2060.
In addition to Saab, the RCAF received bids in July from Boeing, which is offering its F/A-18E/F Super Hornet, and Lockheed Martin, which is offering F-35 Lightning II stealth fighters.
Canada is also part of the F-35 Joint Strike Fighter programme, spending more than $500 million on the effort since 1997, an investment that has allowed Canadian companies to secure C$1.8 billion in contracts from the project.
However, Ottawa has not yet committed to buying F-35s, hence the acquisition competition. Politicians objected to F-35s in part due to the high cost of early examples of the stealth fighter. The cost of the F-35A has fallen to $77.9 million per unit, though operating costs remains high, at $35,000 hourly. Lockheed has promised to lower that figure to $25,000 hourly by 2025.
For its part, Saab has proposed that Canada's IMP Aerospace & Defence would handle in-country production of the Gripen E, and provide support over the lifetime of the fleet. The company says initial aircraft would be produced in Sweden to meet Ottawa's goal of first fighter delivery in 2025. It is still evaluating how many aircraft could be made in Canada, but says it aims to "maximise" the number.
The rest of the Saab Gripen for Canada team would include CAE, which is to provide training and mission systems; Peraton Canada, which is to supply avionic and test equipment, as well as component maintenance, repair and overhaul, and material management; and GE Aviation, which is set to provide and sustain the fighters' turbine engines.