Saab has started production of a Gripen E fighter at its facility in Sao Bernardo do Campo, Brazil.
The aerostructures plant, called Saab Aeronautica Montagens, is the first outside Sweden to produce large components of the combat aircraft, the company said on 7 July.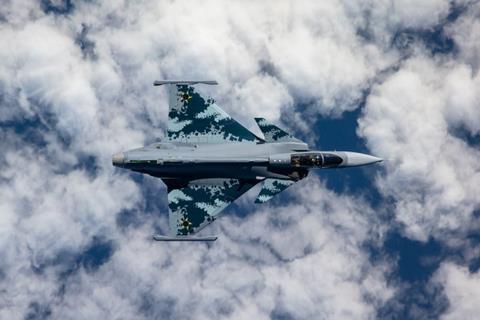 The site will build sections of the Gripen E, such as the tail cone and front fuselage. Pieces of the fighter will then be delivered to final assembly facilities at Embraer's plant in Gaviao Peixoto, Sao Paulo, Brazil and Saab's facility in Linkoping, Sweden.
Brasilia ordered 36 Gripen E/F fighters from Saab in 2014 as part of a deal that included in-country production of 15 examples of the aircraft. The first Gripen E, built in Sweden, was delivered last September for the start of the aircraft's flight-test programme.
"The tail cone and front fuselage of the single-seat version of the Gripen fighter are the first aerostructures to enter into production at [Saab Aeronautica Montagens]," the company says. "Subsequently, the aerodynamic brakes, rear fuselage, wing box and front fuselage for the two-seater version will also be manufactured at [Saab Aeronautica Montagens]".
As part of a technology transfer deal, about half of the 70 engineers and assemblers working at Saab Aeronautica Montagens were sent, or will be sent, to Saab's facility in Linkoping for training.
Deliveries to the Brazilian air force are scheduled to begin in 2021, with all combat aircraft to be delivered by 2024. The aircraft is to be designated the F-39.