Sierra Nevada has been awarded a $700 million contract to develop and integrate radio frequency countermeasure systems aboard an undisclosed number of US Special Operations Command (USSOCOM) Lockheed Martin C-130Js.
In particular, the systems are to be installed on the special operation force's AC-130J Ghostrider gunship and MC-130J Commando II transport, says a US Department of Defense (DoD) contract notice posted online on 1 July.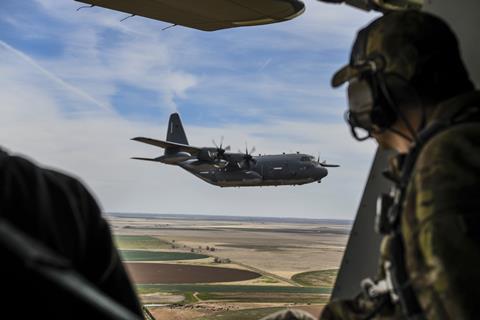 The radio frequency countermeasures are designed to jam air- or land-based enemy radar and missile systems, says the DoD. USSOCOM relies upon countermeasures, as well as other tactics, to suppress anti-aircraft weapons when flying special forces troops behind enemy lines.
Sierra Nevada says it will integrate a radio frequency countermeasure system supplied by Northrop Grumman, but declines to go into detail on what sort of customisation it will provide.
"[Sierra Nevada's] approach to aircraft survivability emphasises full platform integration leveraging platform datalinks, integrated processing, and common tactical display systems," the company says. "[Sierra Nevada] used its electromagnetic and aerodynamic modelling expertise to maximise the performance of the installed system."
The company is also the prime contractor for the MC-130J's airborne mission networking systems.
The AC-130J gunship carries 30mm and 105mm cannons, as well as precision munitions, such as the Boeing GBU-39 Small Diameter Bomb glide munition and Raytheon AGM-176 Griffin missile. It is used for close air support, air interdiction and armed reconnaissance missions.
The MC-130J is used as a low-level in-flight refuelling tanker for special operations helicopters and tiltrotor aircraft. It is also used as a clandestine troop and cargo transport.