Speaking in front of a crowd of fighter pilots for the US Air Force (USAF), technology entrepreneur Elon Musk pronounced the end to the manned fighter jet era.
"The fighter jet era has passed," says the founder of rocket builder SpaceX and artificial intelligence company OpenAI at the Air Force Association Air Warfare conference in Orlando, Florida on 28 February. The crowd of hundreds, perhaps more than a thousand, fighter pilots went noticeably silent before murmuring among themselves.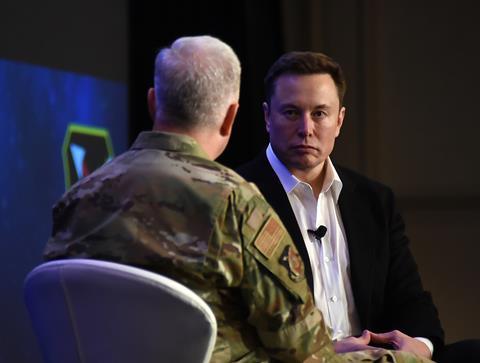 Musk's comments dovetail remarks General James Michael Holmes, head of Air Combat Command, a day earlier. The general says the USAF may consider replacing manned fighters with attritable unmanned air vehicles (UAV), such as the XQ-58A Valkyrie, in the next five to eight years as it looks to retire aging Lockheed Martin F-16s.
While UAVs are nothing new, rapid improvements in artificial intelligence are giving USAF leaders – and Musk – confidence that the aircraft could be used in combat operations. The autonomy that artificial intelligence enables could allow the service to deploy the aircraft in large numbers without overburdening operators or risk losing control of the vehicles due to enemy jamming or interference with communication links.
When it comes to developing its next fighter, the Next Generation Air Dominance aircraft, the USAF is openly considering going without a pilot in the cockpit.
"What we're concerned about at Air Combat Command is not necessarily whether it'll be a manned fighter, but how are we going to provide the capabilities that the joint force depends on us to do?" says Holmes.
Over the last several years, Musk has issued numerous warnings about the dangers of artificially intelligent machines and software. He has raised the specter of autonomous technologies running amok in a doomsday scenario akin the Terminator movies. He also is an active funder of artificial intelligence startups, including the research company OpenAI and Neuralink, a company developing a computer-brain implant for humans.
Just three days earlier, on 25 February, the US Department of Defense (DoD) released an ethical framework intended to guide the US defence industry's development of AI and the US military's use of such emerging technologies. The Pentagon wants safeguards for AI to prevent unintended harm caused by highly autonomous aircraft or weapons.
Despite the caution, the DoD is also vigorously pursuing AI as it fears being overtaken by China, which is plowing large amounts of money and man hours into achieving dominance in AI by 2030. AI could allow a military to prevail in an air battle by allowing unmanned fighters to obverse, target and fire a missile at an enemy faster, for example.
The appeal of AI-controlled battlebots to the military is too strong to stop, though there should be safeguards, says Musk.
"For the air domain things are definitely going to go into locally autonomous drone warfare. That's where the future will be. It's not, 'I want the future to be this.' It's just, this is what the future will be. I can't believe I'm saying this because this is dangerous, but this is what will occur," says Musk. "I think we still want to retain the authority to damage or destroy anything that isn't an autonomous drone – keep that authority back there with the person in the loop."