The F-35 Joint Program Office plans to issue one performance-based logistics (PBL) contract to improve parts reliability and maintainability of the Lockheed Martin stealth aircraft.
The programme office has launched a market research effort ahead of a plan to grant a three-year PBL contract for 2024 to 2026, it says in a request for information posted online on 12 June.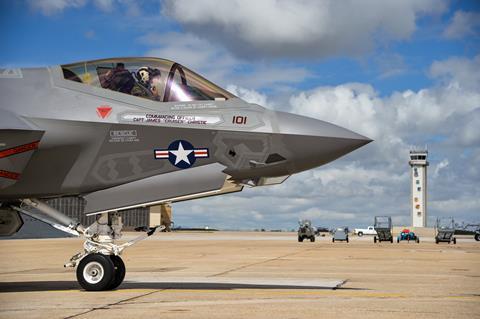 The potential contract echoes a white paper PBL proposal put forward by Lockheed in September 2019 to cut the operating cost of the F-35 to $25,000 per hour by fiscal year 2025. In FY2018, it cost $44,000 per hour to fly the F-35A, the conventional take-off and landing variant of the Joint Strike Fighter trio. The F-35C carrier variant and F-35B short take-off and vertical landing variants cost even more to fly.
By issuing a PBL contract, the Joint Program Office could award a flat fee to maintain certain levels of performance on the F-35, such as cost per flight hour and mission capability rates. That differs from traditional maintenance contracts where the operator would pay for supply of parts or repair services.
In theory, a multi-year PBL contract could allow Lockheed to take ownership of the whole maintenance and sustainment process of the F-35. The company could then use the multiple-year commitment to take advantage of economies of scale savings by buying bulk parts and services upfront at lower prices from suppliers. It could also create cheaper and more effective sustainment processes. Savings would be passed on to operators of the F-35, while Lockheed would keep the rest as profit.
However, the the US Department of Defense (DoD) has been skeptical that the F-35's operating costs can be reduced to $25,000 per flying hour as promised by Lockheed.
"Right now we are targeting a $34,000 per cost per flying hour for the F-35A in 2024," said former F-35 programme executive officer, US Navy Vice Admiral Mat Winter, in a May 2019 hearing before the US House of Representatives Armed Services Committee.
Robert Daigle, director of cost analysis and programme evaluation for the DoD, added to that scepticism in the hearing.
"The department doesn't see a path to get to $25,000 per flying hour by FY2025," he said. "After 2024 our projections are that the cost per flying hour are going to flatten out and increase a little bit because the planes are starting to age and we're going to have to bring them back into the [maintenance] depot."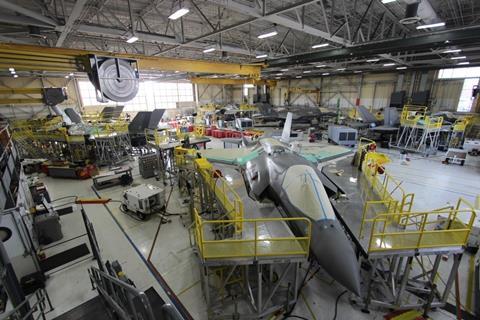 For its part, Lockheed says it foresees more savings with a PBL and remains committed to reaching $25,000 per flying hour by FY2025.
"In partnership with the [Joint Program Office] and services, we estimate this PBL approach will simplify the contracting process, enable continued industry investment in performance improvements and cost reception estimated to provide the DoD cumulative savings of $2.5 billion in operating cost through 2025 and $18 billion through 2035, achieve mission capability of 80% and cost per flight hour for F-35A of $25,000 by 2025," says the company.
The Joint Program Office appears to be focused foremost on using the potential PBL for improvements to the F-35's reliability.
"Past PBL experience has shown that longer-term contracts can incentivise vendors to make investments to improve parts reliability and maintainability, because the longer contract term allows them to realise their return on investment," says the DoD. "Improving the effectiveness of the supply chain is one factor in increasing aircraft availability, but reducing the demand for parts, and reducing the time it takes to make repairs when they are necessary, is another key factor."
Reductions in operating cost might result from less maintenance, but are not explicitly mentioned in the request for information.
"The PBL will require F-35 supply chain management and demand reduction for components of the F-35 aircraft, including training systems and tools, support equipment and laboratories," says the Joint Program Office in its request for information. "Logistics functions to be included include, but are not limited to: repair, replenishment, overhaul, and modification of components; inventory management; configuration management and obsolescence management authority and accountability; and reliability improvements. The contractor will be required to perform all these functions for depot-level repairables while meeting supply response time metrics for destinations [Contiguous United States] and [Outside Contiguous United States]."
The F-35 has struggled with reliability issues. In May 2020, incoming US Air Force chief of staff General Charles Brown said the service would no longer measure the F-35A against an 80% mission capability rate goal. The F-35A fleet peaked at 74% in September 2019.
The Joint Program Office wants Lockheed to partner with maintenance depots of F-35 operators and perhaps subcontract with government-directed sources as part of the potential PBL agreement.
Originally, Lockheed proposed a five-year, full system PBL. The Joint Program Office's PBL contract would exclude the stealth fighter's Pratt & Whitney F135 engine, as well as components of the Autonomic Logistics Information System (ALIS), a troubled software program that manages prognostics, maintenance, supply chain, flight operations and training for the jet.
"The PBL working group determined that a PBL with a more limited scope, focused on supply chain and demand reduction, would better meet the needs of the services," says the DoD.
Ahead of signing a PBL contract with Lockheed, the Joint Program Office is seeking additional cost and performance metrics from the company, it says.
"The department has not set a deadline for when negotiations for a PBL contract will need to be complete," it says. "The department is proceeding in parallel with negotiations for a FY2021-FY2023 annualised sustainment contract under the current model, and is prepared to move forward under that contract until the department is satisfied that it has negotiated an agreement that provides best value to the services."
Updated on 12 June with comments from the Joint Program Office and Lockheed Martin, as well as wording noting that the focus of the PBL appears to be primarily on F-35 reliability improvements.