The US Air Force (USAF) officially accepted the first F-15EX fighter on 10 March at Boeing's St Louis production facility in Missouri.
The choice to acquire the F-15EX is controversial as the fourth-generation fighter lacks the low radar cross-section of the service's former favourite jet, the Lockheed Martin F-35 stealth fighter. The USAF justified its decision by pointing to the F-15EX's lower operating costs and the ease with which units flying the F-15C/D can transition into the upgraded variant. The service also says it intends to field large, long-range hypersonic missiles on the jet.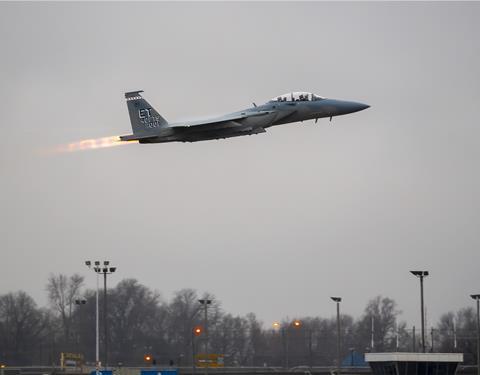 The USAF plans to acquire 144 examples of the combat aircraft to replace its ageing fleet of F-15C/D models, which it says on average are 37 years old and reaching the end of useful life. The service plans to operate the F-15EX into the 2040s.
"With its large weapons capacity, digital backbone, and open architecture, the F-15EX will be a key element of our tactical fighter fleet and complement fifth-generation assets," says Colonel Sean Dorey, F-15EX programme manager with the Air Force Life Cycle Management Center's Fighters and Advanced Aircraft Directorate, which is responsible for the acquisition, modernisation, and sustainment of the service's aircraft. "In addition, it's capable of carrying hypersonic weapons, giving it a niche role in future near-peer conflicts."
Though the new fighter is a two-seat aircraft, the USAF plans to fly it with a single pilot. The back seat will remain empty. The F-15EX has fly-by-wire flight controls, digital cockpit displays and advanced avionics systems. Such equipment includes the BAE Systems Eagle Passive/Active Warning and Survivability System, an electronic warfare system, which is also being installed on older F-15E models as an upgrade.
The first new F-15EX was flown to Eglin AFB in Florida for testing. A second aircraft is scheduled to be delivered to Eglin by the end of April. And, the remaining six aircraft in production lot one are planned for delivery to the site in fiscal year 2023.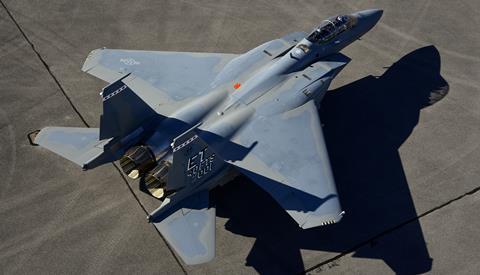 "To expedite the testing needed to declare the F-15EX ready for operations, the team will use previous testing data from F-15 foreign military sales variants and US-only subsystems and operational flight program software," says the USAF. The EX is based on Saudi Arabia's F-15SA and Qatar's F-15QA, upgraded variants of the Cold War-era F-15.
The USAF plans for aircraft produced as part of lots two and three to be delivered in FY2024 and FY2025, it says. Those aircraft are to be based at Oregon's Kingsley Field, an F-15C/D training school, and Portland Air National Guard, home of the 142nd Wing, which will be the first operational unit to fly the aircraft.