The US Air Force (USAF) has purchased for $70.2 million two Textron Aviation Beechcraft AT-6 Wolverine aircraft for its continued light attack experiment.
The turboprops were purchased using an "Other Transaction Authority" – a faster and less bureaucratic process than the conventional Pentagon acquisition procedure – and will come with pilot training, engineering services and up to four years of contractor support for maintenance and spares, says Textron on 16 March.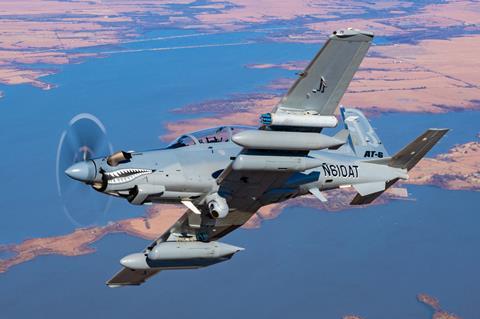 The aircraft will be built in Wichita, Kansas.
The purchase follows a similar deal with Sierra Nevada Corporation announced on 3 March. Sierra Nevada won a $129 million contract to supply two Sierra Nevada/Embraer A-29 light attack aircraft.
Both Sierra Nevada and Textron are participating in the USAF's dwindling light attack experiment.
The light attack experiment has evolved and diminished in scope over several years. Originally, the USAF intended to find a cheap-to-fly ground-attack aircraft. It intended to buy dozens of light attack aircraft. However, recently the initiative morphed into an effort to develop an airborne platform to carry communications equipment that would help allies coordinate air-to-ground attacks with the USA.
That communications kit is called Airborne Extensible Relay Over-Horizon Network, or AERONet. The USAF envisions a system capable of providing video, voice, chat and command and control to partner nations for under $500,000 per unit.
The Textron AT-6 is to be used by USAF Air Combat Command at Nellis Air Force Base in Nevada, for continued testing and development of operational tactics and standards for AERONet.
The Sierra Nevada A-29 will be used at Hurlburt Field in Florida, by Air Force Special Operations Command to develop an instructor pilot programme for its Combat Aviation Advisory mission. The USAF says it is getting more requests for training foreign military pilots in the use of light attack aircraft.
Countries that operate light attack aircraft tend to have less sophisticated air forces with limited budgets. Light attack aircraft, such as the AT-6 and A-29, cost around or less than $1,000 hourly to fly.
A-29 operators include the air forces of Brazil, Colombia, Afghanistan, Ecuador, the Dominican Republic, Indonesia, Lebanon and Nigeria.
The Beechcraft T-6 Texan II aircraft, upon which the AT-6 is based, is used as a basic pilot training aircraft for countries such as the USA, Canada, the UK, Israel, Greece and Morocco. The USAF is the launch customer of the light attack variant.
Correction: Colombia was misspelled. The article was updated on 17 March.