The US Air Force (USAF) has retired the first of 17 Boeing B-1B Lancers that need expensive repairs to remain in service, further reducing its fleet of an aircraft designed to counter Cold War foes.
The service plans to retire the 17 supersonic bombers for the purpose of freeing funds and resources needed to support a smaller fleet of 45 B-1Bs. The project should also free money to purchase the in-development Northrop Grumman B-21 Raider stealth bomber.
Of the 100 Lancers built, the USAF decided in 2001 to retire 33 to pay for modernisation efforts at the time.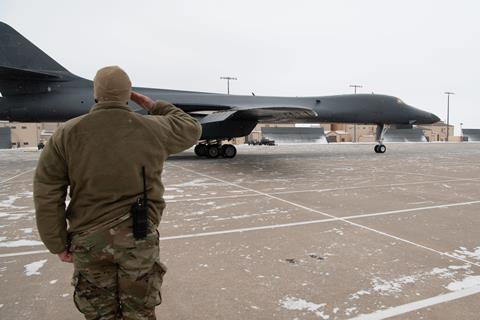 Known as the "Bone", the B-1B began service with the USAF in 1985. The bomber was designed to fly at a minimum speed of Mach 0.85 and as low as 200ft, using terrain-following and terrain-avoidance radar, on penetrating nuclear strikes against the Soviet Union. Its low-altitude and nap-of-the-earth flight profile was intended to avoid detection by Soviet ground radar. However, the USSR's development of look-down, shoot-down radar made that mission perilous.
In 1994, with the Cold War over, the USAF eliminated the B-1B's nuclear mission. The bomber found new work with the start of the War on Terror in 2001, flying close air-support missions for the US military in Iraq and Afghanistan. But those missions, which involved slow flying with wings forward – not swept, as intended for penetration strikes – overstressed the B-1B's wings, causing cracks, the USAF has said.
"Due to the wear and tear placed on the B-1 fleet over the past two decades, maintaining these bombers would cost tens of millions of dollars per aircraft to get back to status quo. And that's just to fix the problems we know about," General Tim Ray, commander of Air Force Global Strike Command, said on 17 February. "We're just accelerating planned retirements."
Returning some B-1Bs to operational condition would cost $10-30 million, says the USAF.
"Retiring aircraft with the least amount of usable life allows us to prioritise the health of the fleet and crew training," Ray says. "Our ability to balance these priorities will make us more capable and lethal overall."
Of the 17 B-1Bs to be retired, the USAF plans to keep four in "Type 2000" recallable storage, a conditioning that would preserve the aircraft so that parts could be salvaged for the remaining flying fleet. The service wants to maintain its leftover B-1B fleet through 2040. The first B-1B is reportedly headed for storage in the desert boneyard at Davis-Monthan AFB in Arizona.
Article corrected on 19 February to note that aircraft being retired are those needing expensive maintenance, and that the USAF previously retired a separate batch of B-1Bs.