The US Air Force (USAF) is considering the Boeing E-7 Wedgetail to replace its fleet of Boeing E-3 Sentry Airborne Warning and Control System (AWACS) aircraft.
"The E-7 is a good platform," General Charles Brown, chief of staff of the USAF, said during the Air Force Association's Air Space Cyber conference on 21 September. "It is something we are considering."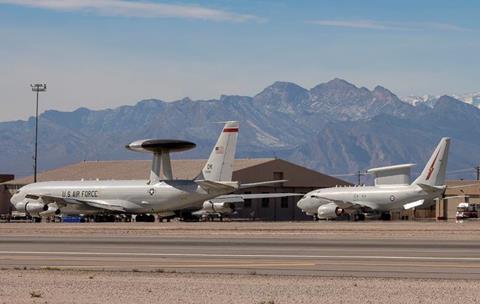 Brown says he and his staff have been speaking with the air chiefs of the Royal Australian Air Force (RAAF) and UK Royal Air Force (RAF) about the aircraft. Canberra operates six examples and London has ordered three.
In addition to those countries, the South Korean and Turkish air forces operate four each.
The E-7 is based on the Boeing 737NG commercial airliner. It carries a fixed, fin-like Northrop Grumman active electronically scanned array radar antenna atop its fuselage instead of the rotating disc radar carried by the E-3.
Airborne early warning and control systems like the E-3 and E-7 are used to detect, identify and track enemy aircraft. That information is then used to coordinate a response by US combat aircraft.
The USAF operates 31 E-3s, with an average aircraft age of 42.8 years, according to Cirium fleets data. Brown says the mission capability rates of the service's Sentry fleet, as well as the cost to keep the aircraft flying, are being reviewed.
In February, Pacific Air Forces commander General Kenneth Wilsbach said the average age of the E-3 fleet was making it difficult for the service to maintain the type. Wilsbach advocated buying the E-7, but at the time Brown declined to comment, saying the aircraft needed to be studied more.
Brown says studies are ongoing, but the E-7 is attractive because it is a "proven capability".
"It's already available," he says. "It's an option to be able to get capability much faster than if we had to start from scratch."