The US Air Force has kicked off a study looking at buying Boeing E-7A Wedgetail airborne early warning and control (AEW&C) aircraft to replace its ageing fleet of Boeing E-3 Sentry aircraft.
In September, General Charles Brown, chief of staff of the USAF, said the service was considering the Wedgetail and was discussing it with the Royal Australian Air Force (RAAF). Canberra was the type's launch customer and operates six of the jets, which are based on Boeing's 737-700 increased-gross-weight airliner.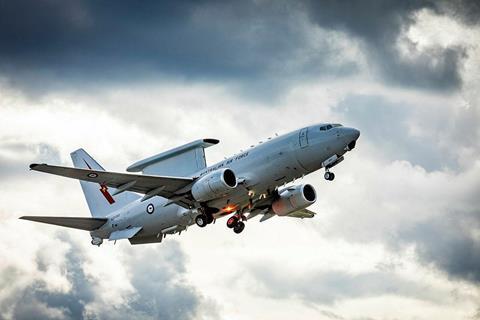 A new sole-source contract to Boeing, called the "E-3 Replacement Aircraft Studies & Analyses", shows the USAF is serious about acquiring the AEW&C aircraft and is looking to move quickly. Boeing is being paid to examine changes needed for E-7As to meet the USAF's configuration standards and mandates, the service said in a contract award notice posted on 18 October.
The USAF operates a fleet of 31 E-3s, with an average age of 43 years, according to Cirium fleets data. The age of those aircraft is prompting the service's search for replacements.
"We're looking at the AWACS E-3s we have today, their mission-capable rates, and how much it costs to be able to maintain and keep those viable," Brown said during the Air Force Association's Air Space Cyber conference on 21 September. "This is why we're taking a look at the E-7."
The USAF would prefer for satellites to perform the E-3's air-moving-target indication mission, but such satellite technology remains insufficiently advanced, he said.
The E-7A is attractive because it has "proven capability", said Brown. "It's already available… It's an option to be able to get capability much faster than if we had to start from scratch."
The South Korean and Turkish air forces also each operate four E-7As, and the UK Royal Air Force has ordered three examples.
E-7As carry fin-like Northrop Grumman active electronically scanned array radar antennas atop their fuselages, not the rotating disc radars carried by E-3s.
As part of its study, the USAF seeks information from Boeing about the E-7A's supply chain sustainment, systems engineering and cybersecurity, and integration with the US military's "Mobile User Objective System" satellite communication system and its M-Code GPS.
In addition to the USAF, France operates four E-3s, NATO 14 and the Royal Saudi Arabian Air Force five. If Washington buys the Wedgetail, those operators may follow suit, significantly extending production of the jet for years.
Additional orders would extend production of the 737NG commercial airliner, which is also the basis of Boeing's P-8A Poseidon maritime patrol aircraft. That military derivative is based on the 737-800 airframe with -900 wings. Boeing says it has 41 737-800s in its backlog.
Correction: The article was updated on 20 October to change the number of E-3s operated by the Royal Saudi Arabian Air Force