The US Air Force (USAF) released a draft request for proposal to replace the engines of the ageing Boeing B-52H Stratofortress.
The notice brings the B-52H re-engine programme one step closer to kick off.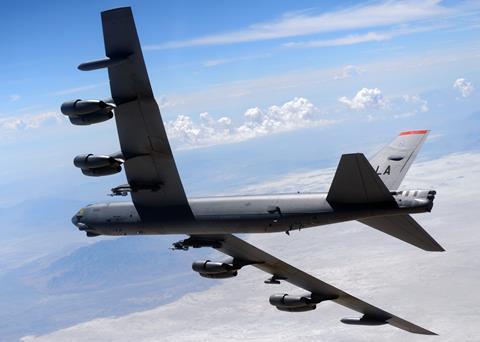 The service plans to buy 608 commercial engines – plus additional spare engines and support equipment – enabling it to operate the heavy bombers until at least 2050, a 23 April notice says. The USAF plans to award a contract in May 2021. The engines are to be delivered over 17 years.
The service's fleet of B-52Hs have flown with Pratt & Whitney TF33-PW-103 engines since the early 1960s. The TF33 is based on the commercial JT3D that powered the Boeing 707 and Douglas DC-8. Each bomber has eight engines.
The USAF wants a military derivative of a commercial engine to replace those turbines.
GE Aviation, Pratt & Whitney and Rolls-Royce have expressed interest in bidding on the programme.
GE Aviation plans to offer two bids: CF34-10s, which powers commercial aircraft like Bombardier and Embraer regional jets, and Passport turbofans, which power Bombardier's Global 7500 business jet. Pratt & Whitney plans to offer the PW800 engine, which powers Gulfstream G500 and G600 business jets. R-R plans to offer the F130 engine, a military derivative of the company's BR700, which powers Gulfstream business jets and other aircraft.
The USAF wants a replacement engine that has a similar size, thrust and weight compared to the legacy P&W powerplants. Each of those engines generate 17,000lb-thrust (75.7kN).
However, the service also wants a modern turbofan with a higher bypass ratio and digital engine controls. It wants that engine to have reduced fuel consumption, noise, emissions and operating costs.
The B-52H has an unrefuelled range of 7,650nm (14,200km). Depending on the engine selected, it is thought that the aircraft's range could be increased by 20% to 40%.