The US Air Force (USAF) is conducting market research in search of companies capable of helping to build an air-breathing hypersonic cruise missile.
The service made known its interest in a "Future Hypersonics Program" sources sought notice posted online on 27 April.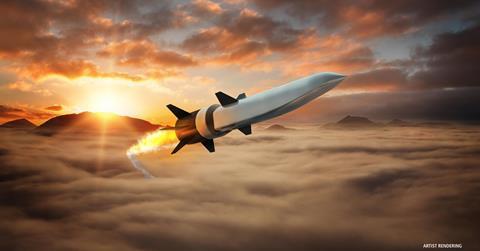 The Future Hypersonics Program is intended to develop a "solid-rocket boosted, air-breathing, hypersonic conventional cruise missile, air-launched from existing fighter [or] bomber aircraft", the USAF says.
The service is looking for the missile to have an open systems architecture.
"The effort involves the use of digital engineering and model-based engineering practices for requirements, design, trade studies, and analyses," says the service. "This weapon system must be designed and analysed to achieve a preliminary design review in [the fourth quarter of FY2021]."
The USAF is looking for companies with a variety of expertise including sustained air-breathing hypersonic propulsion, such as ramjet, scramjet, or dual-mode engines; stable hypersonic aerodynamics; aero-thermal protection systems; solid rocket motors; warhead and missile integration; as well as advanced hypersonic guidance, navigation and control.
The Future Hypersonics Program is the USAF's second air-breathing cruise missile effort. It is also developing in partnership with the Defense Advanced Research Projects Agency a cruise missile called the Hypersonic Air-breathing Weapon Concept (HAWC). A Raytheon-Northrop Grumman team and a Lockheed Martin-Aerojet Rocketdyne team are offering competing designs in the HAWC effort.