The US Air Force (USAF) has named GE Aviation as the sole jet engine supplier for its new Boeing F-15EX Eagle II fleet.
The service plans to buy as many as 144 examples of the Eagle II.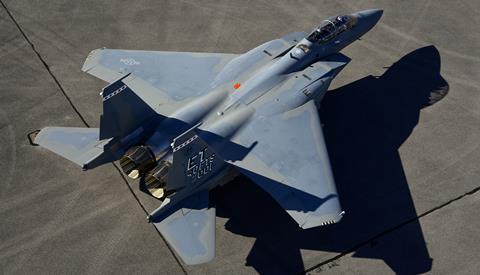 The USAF initially made GE the provider of the F-15EX's engines, granting it a sole-source contract in 2020. The company makes the F110 that powers the Qatar air force's F-15QA and Royal Saudi Arabian Air Force's F-15SA, earlier variants of the "Advanced" F-15 on which the Eagle II is based.
However, Pratt & Whitney, which provides the F100 engine that powers the USAF's fleet of legacy F-15C/D and E fighters, pushed back on the USAF's decision and demanded an acquisition competition.
In 2020, the service cancelled its sole-source contract with GE and kicked off a bidding competition as part of an effort to reduce production costs. GE remained under contract to supply engines for eight initial F-15EXs that the USAF ordered as part of production lot one in 2020.
Ultimately, the service decided to stick with GE, granting it a $1.6 billion contract to supply 29 engines (including spares) for 12 F-15EX aircraft in production lot two, it said on 29 October. Initial deliveries of production lot two engines will start in October 2023.
The contract includes seven additional options for the purchase of up to 329 engines through 2031.
"The F110 production line is active today and ready to deliver on the US Air Force's urgent and compelling requirement for an F-15EX propulsion system," says Shawn Warren, GE's vice-president of combat and trainer engines. "We're pleased with the engine's performance on the two F-15EX test aircraft flying today, and we're excited to bring that performance to the entire planned fleet."
The USAF has received two examples of the F-15EX, both of which recently underwent initial operational test missions at Nellis AFB in Nevada.
The F-15EX has fly-by-wire flight controls, digital cockpit displays and advanced avionics systems. The fighter also comes with BAE Systems' Eagle Passive Active Warning Survivability System, an electronic warfare system.