The US Air Force (USAF) has accepted delivery of the 10,000th example of the Air Intercept Missile (AIM)-9X Sidewinder, its premier short-range air-to-air missile.
The infrared-tracking missile was delivered to the service in May, the US Navy (USN) said on 29 June. The USN leads the AIM-9X programme, a joint effort with the USAF. Raytheon manufactures the missile in Tucson, Arizona.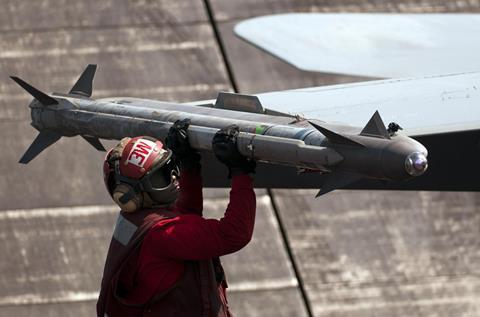 The USN declared initial operational capability on the most advanced version of the missile, the Block II variant, in 2015. The Block II missile has a redesigned fuze and a digital ignition safety device to make it easier to handle and increase in-flight safety, says Raytheon. The weapon also has a "lock-on-after-launch capability using a new weapon datalink to support beyond-visual-range engagements", the company says.
"The AIM-9X Block II is the most advanced short-range air-air missile in the US inventory, capable of using its datalink, thrust vectoring manoeuvrability, and advanced imaging infrared seeker to hit targets behind the launching fighter," says the USN.
The missile is also widely used by US allies and international partners, with nearly 3,000 AIM-9X Block II and Block II+ missile purchased by 25 foreign countries, says the USN. The weapon is qualified on the Boeing F-15C, F-15E, F/A-18E/F Super Hornet and E/A-18G Growler, Lockheed Martin F-16 and F-22, and all three F-35 variants.
In addition to an air-to-air role, the AIM-9X can be launched at ground targets or used as a surface-to-air missile without modification, says Raytheon. The missile's range and top speed are classified.