The US Air Force (USAF) is looking for ideas for an aircraft prototype that would be able to launch long-range missiles en masse.
The service and the US secretary of defense's Strategic Capabilities Office are partnering to survey the market for ideas and research technical maturity, feasibility and operational utility of using such an aircraft to launch weapons, says the USAF in a request for information posted online on 25 June. The Department of Defense says it prefers aircraft designs that could quickly enter experimentation and prototyping for rapid development and fielding.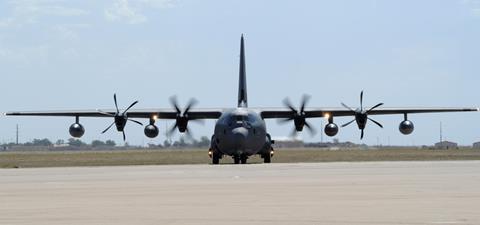 The experimentation and prototyping effort would help the USAF examine the idea of an "arsenal plane", an aircraft that could carry and launch long-range missiles and unmanned air vehicles from the edge of dangerous airspace. The service is debating how effective such an aircraft would be against China or Russia, both which have sophisticated anti-aircraft defences that make it difficult to fly over their sovereign territory and drop bombs.
"The ability to mass firepower in future conflicts increases the range of [operational plan] execution options against peer adversaries," says the USAF in its notice. "Delivering stand-off and stand-in-type weapons en masse, from non-traditional delivery platforms, is one potential option to deliver mass firepower and could prove pivotal in future conflicts."
An arsenal plane would be a clean-sheet design. However, the USAF is also considering repurposing cargo aircraft, such as the Lockheed Martin C-130 or Boeing C-17, to launch weapons as a sort of part-time or quasi arsenal plane.
In January 2020, the Air Force Research Laboratory and Air Force Special Operations Command successfully tested releasing mock cruise missiles from the rear cargo ramp of a MC-130J Commando II. A pack of specially configured cruise missiles, dubbed Cargo Launch Expendable Air Vehicles with Extended Range, or CLEAVER, were stacked on wooden pallets and pushed off the back of the aircraft's cargo ramp.
Whether the USAF chooses a clean-sheet design, a modified cargo aircraft or no arsenal plane at all, depends partly on the result of further study.
"There is a significant trade space between stand-in, stand-off solutions, as well as capacity, range, and cost at a system level," says the service. "[Strategic Capabilities Office] would like to understand that trade space by comparing potential options."
Those trade studies will be used to inform a debate within the air force about whether it is more cost effective to invest further in the stealthy, but expensive Northrop Grumman B-21 Raider, which ought to be capable of dropping bombs over China and Russia, or whether firing cruise missiles from beyond the reach of anti-aircraft defences is better. The service could also decide to buy a mixture of aircraft.