The US Air Force (USAF) 2021 budget proposal totals $169 billion, with $15.4 billion carved out for the new Space Force.
The budget proposal amount is essentially flat from what the US Congress granted in the last fiscal year.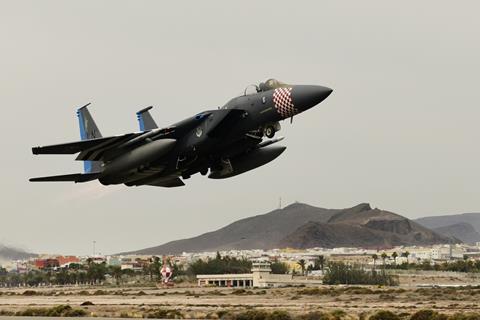 While the total is unchanged from years prior, the service is asking to increase research and development in order to meet upcoming threats from China and Russia by 2030, it says on 10 February.
For example, the USAF is pushing forward the development of its Advanced Battle Management System, a sort of internet-of-things network that is supposed to enable faster and closer collaboration between aircraft, satellites, tanks and ships of the USAF, US Army and US Navy.
"At the heart of the Department of the Air Force's strategy for winning future conflicts is creating a resilient battle network that connects ships, ground forces, planes and satellites to fight together at speeds far surpassing any adversary," says the USAF. "This budget provides funds for a rapid experimentation, prototyping and development effort supporting the overall Joint Staff-led initiative to connect every sensor and shooter in land, sea, air, space and cyber."
The Space Force's network of telecommunications and sensor-bearing satellites will be an important part of any future battlefield network. Established as the sixth military branch of the US armed forces in December 2019, the vast majority of the Space Force's $15.4 billion budget – $10.3 billion – is dedicated to research and development.
"Space is now a contested domain which is why it is an imperative that we train and equip our forces to ensure freedom of action in space across all phases of conflict," says chief of space operations General John Raymond. The Pentagon has made space a priority as China and Russia have increasingly added weapons in their inventories to shoot down or spy on US satellites.
Overall, the USAF's research and development spending is expected to grow by 5.9% to $26.9 billion.
Other research and development priorities include building the Northrop Grumman B-21 Raider stealth bomber, for which the service is asking $2.8 billion, upgrading and modernising the USA's ground-based nuclear force.
In terms of new aircraft buys, the service is asking for $5.8 billion to purchase 48 Lockheed Martin F-35A Lightning II aircraft. It wants $3 billion to purchase 15 Boeing KC-46A Pegasus in-flight refuelling tankers and $1.4 billion for 12 Boeing F-15EX fighters.
The USAF has said previously that it needs to buy 72 combat aircraft per year to replace aging fourth-generation fighters, such as the 1970s-era F-15C/D, which are reaching the limits of their lifetimes.
In previous years, the budget approved by the US Congress has earmarked extra money to the USAF to buy additional F-35As beyond what the service had requested.
In order to pay for the Space Force and increased research and development, the USAF's 2021 budget requests includes expected savings by increasing the number of aircraft retirements, including 13 KC-135 Stratotankers, 16 KC-10 Extenders, 24 C-130H Hercules, 17 B-1 Lancers and 24 RQ-4 Global Hawk Block 20/30 aircraft. It has become increasingly expensive to maintain and fly those aging aircraft.
The USAF described its 2021 budget proposal as forcing "tough but necessary choices."
"Like every budget, we didn't get everything we put on the table, says USAF chief of staff General David Goldfein. "But, we got a lot and the reason is our story resonated in terms of the force that we know we need to build to win."
The US Congress is to debate and revise the budget proposal, before the bill would be passed and then signed into law by President Donald Trump on 1 October 2020, which is the start of FY2021 for the US government.