The US Air Force (USAF) has demonstrated that a Boeing F-15E Strike Eagle could carry five Lockheed Martin AGM-158 Joint Air-to-Surface Standoff Missiles (JASSMs), more than double its current capacity.
The 85th Test and Evaluation Squadron at Eglin AFB in Florida finished a proof-of-concept, called Project Strike Rodeo, showing the greater carriage capacity of the F-15E, the service said on 11 May.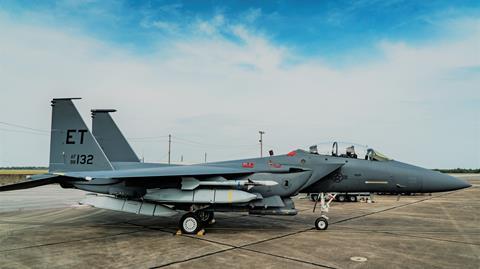 The idea to increase the weapons load-out of the strike fighter emerged organically from a working group in January 2021, says Lieutenant Colonel Mike Benitez, 53rd Wing director of staff.
"A team of expert tacticians were working through a specific scenario that relied on the ability to escort a bomber loaded with stand-off munitions to a release point in a highly-contested environment," says the service. "Some warfighters hypothesised that using a formation of fighters instead of a single bomber to employ the JASSM salvo could not only reduce the size and complexity of the strike package required to execute the mission, it would also distribute mission risk across the force."
Using F-15Es to carry a large number of JASSMs would also give combat commanders options and would create dilemmas for adversaries who could not predict what aircraft, fighters or bombers, might be used in an attack, adds Benitez.
The JASSM is a stealthy cruise missile intended to be used against high-value or highly-defended targets, such as command-and-control centres, communications hubs or surface-to-air missile batteries. The weapon is qualified for use on the Boeing B-1B supersonic bomber, Northrop Grumman B-2 stealth bomber and Boeing B-52 strategic bomber.
The USAF has increased its interest in stealthy cruise missiles in recent years as sophisticated surface-to-air missile batteries, such as the Russian-made Almaz-Antey S-400, make it difficult for non-stealthy fourth-generation combat aircraft, such as the F-15E, to fly into adversary airspace. To avoid anti-aircraft weapons, the service plans to have some aircraft stand off at a distance and launch cruise missiles. In 2019, the US Department of Defense increased potential long-term production quantities of the JASSM from a possible maximum of 4,900 to a possible maximum of 10,000.
The F-15E is currently qualified to carry only two JASSMs at once. So, in order to take over the cruise missile strike mission from a bomber, which have much larger capacities, the F-15E's capacity would have to be increased.
"Unfortunately, the munitions would not fit on the conformal fuel tank weapons stations of the F-15E, as JASSM was designed to be loaded directly from the base of their shipping containers, which is too large to fit under the F-15E without hitting the main landing gear," says the USAF.
To fix that problem, a USAF team designed and manufactured a special loading tool and wrote new weapons loading procedures for the JASSM.
"No-one told us to do this," says Benitez. "We saw the need and the opportunity, so we executed. This infectious attitude drove every unit or office we coordinated with. Everyone wanted to see if we could do it, and no-one ever pushed back and asked for a requirement or a formal higher headquarters tasking."
Project Strike Rodeo went from idea to execution in about five months, says the USAF. With the load test proved successful, the service is planning flight testing.
STRIKE EAGLE
The prospect of increasing JASSM capacity on the F-15E comes after the 85th Test and Evaluation Squadron demonstrated in February a Strike Eagle carrying six Joint Direct Attack Munitions (JDAMs) on a single side of the aircraft. The proof-of-concept means in theory that the F-15E could increase its payload from a maximum of nine JDAMs to 15 units.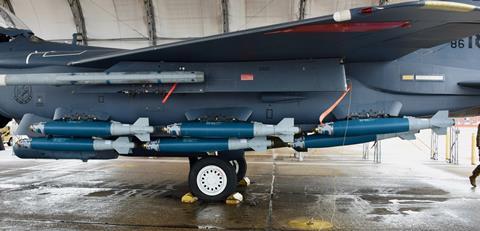 "The Strike Eagle can now carry enough JDAMs for an active combat mission, land at a remote location, and reload itself and/or another aircraft – such as a [Lockheed Martin] F-35 or F-22 – for additional combat sorties," said Lieutenant Colonel Jacob Lindaman, commander of 85th Test and Evaluation Squadron in February.
The USAF says not all of the 15 JDAMs carried aboard an F-15E could be dropped on a mission. However, the ability to ferry extra bombs would enable better logistics for the service's Agile Combat Employment strategy, a plan to disperse combat aircraft across many different airfields, including remote bases. Dispersion is intended to make it difficult for an adversary to hit multiple aircraft at once with an attack.
"The combat tactic of reloading in a remote location previously took two [Lockheed] C-130s to carry the necessary munitions and personnel. Once at the location, the JDAMs had to be assembled, taking extra time," says the USAF. "The additional carriage on the F-15E allows fully assembled JDAMs to be transported, reducing the requirement to just one C-130 and saving [time by] eliminating on-site bomb building."
Lindaman added that using the F-15E for moving JDAMs could help increase the tempo of combat operations by arming fighters faster than before.
The additional carrying capacity of the F-15E also may have implications for the USAF's efforts to replace its F-15C/D fleet with 144 examples of the upgraded F-15EX Eagle II. The service chose to buy the F-15EX, instead of the F-35, partly due to its weapons payload capacity. It plans to operate the F-15EX into the 2040s.


Garrett Reim is a military aviation reporter based in Los Angeles. He reports on military aircraft manufacturers and operators in North and South America. Send him your confidential tips, press releases and story ideas via garrett.reim@flightglobal.com. Follow him on Twitter via @garrettreim.