In light of a growing need for electronic warfare capabilities, the US Air Force (USAF) has stood up the 350th Spectrum Warfare Wing.
The service's Air Combat Command activated the wing on 25 June. It will be temporarily based at Eglin AFB in Florida until the USAF can conduct an environmental review for its permanent location, it said on 28 June.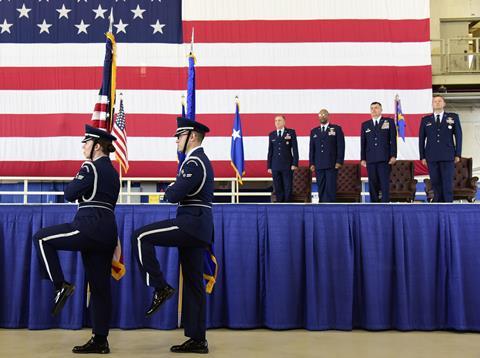 The new wing comes online as the service is increasingly worried about China and Russia's electronic warfare and surface-to-air missile capabilities, especially the Russian-built Almaz-Antey S-400 Triumf. Moscow has boasted that the S-400 has "anti-stealth" radar capabilities.
"The competition in the electromagnetic spectrum is more important than ever before," says Colonel William Young, 350th Spectrum Warfare Wing commander. "If we lose the fight in the [electromagnetic spectrum], we will lose the fights in all other domains."
Electronic warfare attacks, such as radar jamming, have been used by the USAF in past wars to temporarily blind, frustrate and confuse opponents, allowing US forces the opportunity to engage the enemy.
"Standing up this unit emphasises the air force's commitment to consolidating and modernising our entire enterprise so that joint warfighters have freedom to attack, manoeuvre and protect themselves at the time, place and parameters of our choosing," says Young.
The wing will also be responsible for electromagnetic warfare modelling, simulation and assessments, the service says.
The USAF has been without a dedicated electronic warfare aircraft since it retired the General Dynamics EF-111A Raven in 1998. Instead, the service has relied on the US Navy's (USN's) Northrop Grumman EA-6B Prowler and most recently the Boeing EA-18G Growler via the Joint Airborne Electronic Attack Program. As part of that joint effort, personnel from the USAF's 390th Electronic Combat Squadron are based at NAS Whidbey Island in Washington State.
The service did not say what would become of the 390th Electronic Combat Squadron's joint mission with the USN. However, the USAF says "the standup also ensures all air force electronic warfare and [electromagnetic spectrum] capabilities are consolidated at one location".
"In order to remain competitive and in line with the National Defense Strategy, the 350th [Spectrum Warfare Wing] will help the air force rethink its [electronic warfare] capabilities and plan for future requirements," the service says. "The air force will conduct further environmental analysis before making a final basing decision for the wing's permanent location, expected in spring 2022."