The US Air Force (USAF) is moving forward with an experiment to drop cruise missiles from the back ramp of cargo aircraft.
The Air Force Research Laboratory and Air Force Special Operations Command (AFSOC) successfully tested releasing mock cruise missiles on 28 January 2020 from the rear cargo ramp of a Lockheed Martin MC-130J Commando II, the service said on 27 May.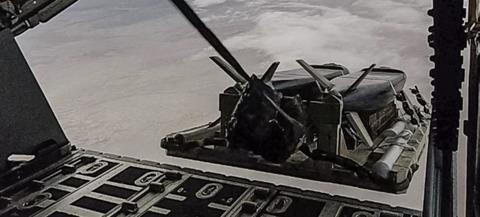 Dropping cruise missiles from cargo aircraft is considered a cheaper alternative to designing a clean-sheet bomber. USAF leaders have recently discussed the possibility of developing an "Arsenal Plane", a new bomber which would carry large numbers of cruise missiles into combat.
As part of the January experiment, munitions were stacked on wooden pallets, called Combat Expendable Platforms, and rolled off the back of the MC-130J.
"AFSOC aircrew released five [Combat Expendable Platforms] rigged with six simulated munitions, the same mass as the actual weapons, including four Cargo Launch Expendable Air Vehicles with Extended Range (CLEAVERs) across a spectrum of low and high altitude airdrops," says the USAF. "These long-range, high precision weapons destroy moving and non-moving targets."
The Phase 1 demonstrations were conducted during three airdrops at Dugway Proving Ground, Utah.
CLEAVER is an experimental cruise missile. The USAF envisions cargo aircraft, such as the C-130 or Boeing C-17 carrying the weapons to the edge of the air battle, and then dropping and firing them deep into enemy territory.
The weapons would be networked with each other and other aircraft. The missiles would be semi-autonomous, and accompany unmanned air vehicles and fighters on combat missions, the service says.
The USAF wants the missiles to swarm and overwhelm a target. In particular, long-range cruise missiles are seen as a means of destroying military targets while their release aircraft remain beyond the reach of China and Russia's anti-aircraft missile batteries.
In future demonstrations, AFSOC plans to test different variants of CLEAVER, including glider and powered types, as well as fully functional missiles with warheads and terminal guidance systems, it says.