The US Air Force (USAF) aims to start using private in-flight refuelling tankers in two years.
The service wants to contract 5,000 flight hours to support around 1,100 sorties annually, it says in an industry day brief that was released 3 March. The brief was a summary of an industry day held in December 2019.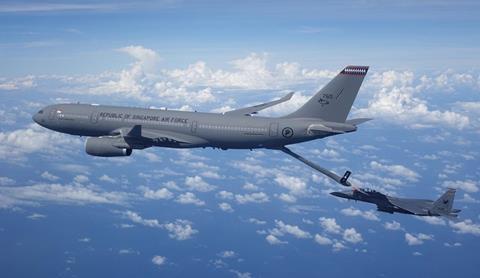 The USAF is looking to grow its tanker fleet to boost the nonstop range of its fighter and bomber aircraft. In particular, it wants more tankers available so it can quickly manoeuvre large numbers of aircraft across the Pacific Ocean in case of a war with China. It also is short of full functional tankers due to problems with the Boeing KC-46A Pegasus. Those problems, including issues with the refuelling boom camera, won't be fixed until at least 2023.
To make up the gap in capacity, the USAF is looking at contracting tanking services. Several firms have expressed interest.
In 2018, Lockheed Martin partnered with Airbus on a potential offering of the A330-based Multi Role Tanker Transport.
In 2019, private in-flight refuelling company Omega Air bought two used McDonnell Douglas KDC-10 tankers, which have refueling booms. The company already owns a fleet of tankers which it contracts out to the US Navy. However, those tankers only have a hose-and-drogue.
The USAF plans to use about 80% of private tanking services to refuel aircraft during training exercises; about 8% for test and evaluation flights; about 8% to refuel Foreign Military Sales aircraft flying across the continental USA; and about 3% to refuel aircraft flying across the Atlantic and Pacific Oceans.
Extra refuelling services around the continental USA should free up the USAF's more sophisticated tankers, including the aging Boeing KC-135 Stratotanker and KC-46A, to support aircraft further afield, near areas of possible conflict.
The USAF says its initial tanking priority is for refuelling the Boeing F-15, Lockheed Martin F-16, Boeing F/A-18, Boeing B-1 and Boeing B-52.
The USAF plans to solicit bids in June 2020.
The service wants initial operational capability, aircraft airworthiness certificate completed, and aircraft and crew ready to schedule Air Force Materiel Command testing within one year of the contract being signed.
It wants the private tankers certificated for its top priority aircraft and ready for missions up to 3,000h annually two years after the contract is signed.
The USAF wants the tankers to have full operational capability, to be ready for 5,000h of annual service, and to have the ability to refuel a larger set of aircraft, including the Lockheed Martin F-22, Lockheed Martin F-35, Fairchild Republic A-10 and Lockheed Martin C-130, three years after the contract is signed.