To prepare the Lockheed Martin F-35A Lightning II for austere air-basing conditions of its new combat strategy, the US Air Force (USAF) is looking to maintenance partnerships with foreign militaries and logistics support from the US Navy (USN) and US Marine Corps (USMC), as well as a programme to increase maintainers' skills.
Those plans come as the stealth fighter remains beset with teething problems, including a myriad of issues with its support software – the Autonomic Logistics Information System (ALIS) – parts shortages and component quality issues.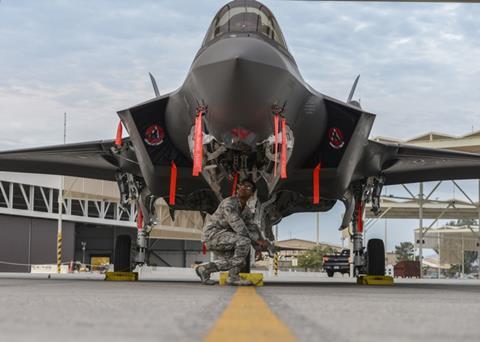 The USAF's Agile Combat Employment strategy, a plan that envisions constantly moving fighter jets between a network of bases, makes maintaining aircraft more difficult as the jets will sometimes be required to land, refuel and rearm from remote strips that lack maintenance equipment and personnel.
Despite the maintenance difficulties, the service is keen on the strategy. It fears long-range precision ballistic and cruise missiles from China or Russia could destroy the stealth fighter when it is most vulnerable – parked for long durations on the tarmac.
By constantly repositioning its aircraft, the USAF wants to force its adversaries into a game of Whac-A-Mole. It argues the F-35A is steadily becoming more reliable and capable of executing the fast-moving Agile Combat Employment strategy. The service believes an agile support network can be built around the sophisticated stealth fighter.
A LITTLE HELP FROM FRIENDS

In particular, the USAF is laying ground work to allow foreign militaries to refuel, rearm and repair F-35As in the field in coming years.
Permitting and training foreign allies to work on the USAF's stealth fighters would increase the support network of the jet, a critical factor in keeping the aircraft armed and airborne, prepared for combat operations.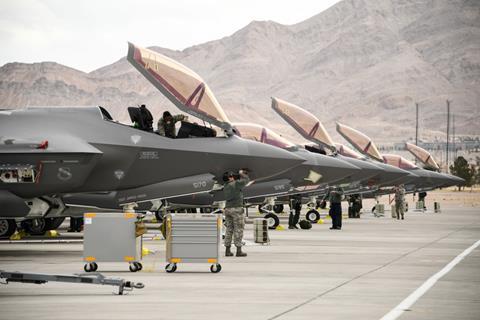 As part of the initiative, the 388th Maintenance Group at Hill AFB in Utah has worked with US allies to lay out a three-phase plan for international maintenance of F-35As in the field.
Phase one of the concept would allow for allies or partner nations to launch, recover and refuel aircraft. They could also perform light service work such as inflating tires and refilling pilots' liquid-oxygen bottles.
Phase two would permit countries to change components, like leading-edge flaps, on partners' jets. Phase three would allow them to load munitions on other nations' fighters.
So far, Hill AFB maintainers have practiced and trained on phase one goals with the Royal Australian Air Force (RAAF), Italian air force and Royal Norwegian Air Force, said Colonel Michael Miles, former 388th Maintenance Group commander, in June. Miles retired from the USAF in July.
"We also have confidence in everybody's training, because we're all trained from the same source material and the academic training centres around the world," he said, noting the multi-national development and maintenance, repair and overhaul network of the F-35 Joint Strike Fighter.
However, due to security concerns, the concept cannot proceed to phases two or three until countries sign bilateral agreements allowing other nations to work on their jets. So far, phase one's launch, recovery, refuel and light service work has been documented using paper forms. After bilateral agreements are signed, maintenance and service documentation could be conducted in ALIS software, said Miles.
Phase three – rearming aircraft – would also require additional training to teach maintainers of differing nations how to handle, load and arm weapons that are not in their country's inventory. For example, the Kongsberg Joint Strike Missile is integrated onto Norway's F-35A, but not the USAF's examples.
RESUPPLY, BY SEA OR SKY
Foreign maintenance of USAF F-35As follows a similar joint-maintenance parts-pooling agreement with the RAAF for Boeing C-17 strategic transports, signed in 2019. In the same vein, the USAF is working on adding a joint-maintenance agreement for the Lockheed C-130J tactical transport.
"Every place we're going to be fighting out of is going to have joint and potentially coalition partner forces with us," Brigadier General Jeffrey King, former director of logistics, engineering and force protection at Joint Base Pearl Harbor in Hawaii, said in March. "Ideally, we would like to get to the point where we're all using the same or similar equipment, where we can load each other's aircraft, refuel each other's aircraft, potentially even maintain each other's aircraft and get parts sharing."
King transitioned to become commander of the Oklahoma City Air Logistics Complex at Tinker AFB in July.
C-17s and C-130Js will likely be vital to keeping F-35 supply chains flowing during times of conflict.
The work of supplying large, established maintenance hubs would likely fall on C-17s, says Brigadier General Michael Winkler, director of strategic plans, requirements and programmes for Pacific Air Forces.
"We'll probably rely pretty heavily on the C-130 for the tactical airlift part, so the delivery from the hubs to the spokes," he says. "A lot of our joint partners are going to be relying on our tactical airlift capability as well to make sure that they've got the parts and equipment that they need to continue to fight."
When airlift is not an option, the USAF plans on leveraging the logistics network of the USN and USMC.
"One of the key tenants of logistics is, you don't have to own it to benefit from it," says King. "We have to have the ability to quickly shift from one mode of transportation to another in denied environments."
For example, when it is not possible to bring aircraft back to main operating bases for heavy maintenance, the USAF could rely on the USMC's "Mobile Facilities", housed in standard shipping containers. The USMC can move up to 300 Mobile Facilities on Wright-class aviation logistics support container ships, which are used to support Marine helicopters. They are known as roll-on/roll-off ships.
"These facilities are essentially modified shipping containers connected together with power, water and communications," says the USAF. "They serve as mobile workshops to support back-shop aircraft maintenance activities for a variety of Marine units in different capacities."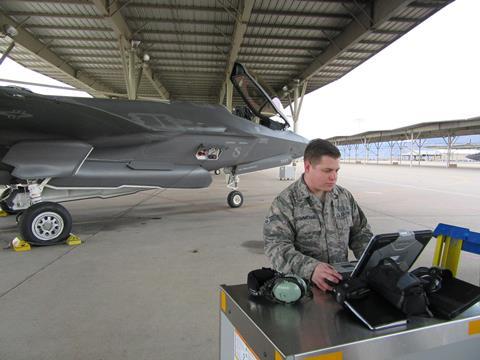 With an eye on flexibility, the USAF is also pushing its F-35A maintainers to broaden their skills. Recently, the service merged two similar cross-training maintenance experiments – the Blended Operational Lightning Technician (BOLT) programme at Hill AFB in Utah and the Lightning Integrated Technician programme at Luke AFB in Arizona – into what it calls the Lightning Technician Programme.
The effort combines six job descriptions into two tracks: air vehicle and mission systems. Those in the air vehicle track are cross-trained in the work of crew chiefs, aircraft refuelling and low observable technicians. Those in the mission-systems track focus on avionics, weapons and egress.
The cross-training allows maintenance personnel to be more productive and get F-35As back in the air quicker. For example, the predecessor BOLT experiment took five fewer man-hours to produce one F-35A flying hour, compared to traditional aircraft maintenance unit processes, Hill AFB has said.
"We're out of the experiment phase," said Miles. "We're encouraging the rest of the F-35 enterprise to do this."
The USAF's Air Combat Command (ACC) says it is still examining the concept and has yet to commit to further investment or a timetable for rolling out the programme across the service.
"Our contract maintenance teams have proven success with nose-to-tail maintenance concepts and we are studying how a consolidated Air Force Speciality Code structure could benefit our military maintainers on fifth-generation weapons systems," says the service. "Implementation of [the Lightning Technician Programme] could affect all current and future weapons system manpower, so there are many factors to examine prior to moving forward."
Nonetheless, in the spirit of furthering F-35 international cooperation, the USAF has demonstrated the Lightning Technician Programme to foreign militaries, including Belgium, Israel and Japan. The idea appears to be lifting off.
"The Belgian air force is going [to the Lightning Technician Programme] 100% from day one," said Miles. "They're designing their whole programme to match what we're doing."

US Air Force special report: Preparing for the high-end fight
1

2

3

Currently reading

US Air Force works to let foreign militaries rearm, refuel and repair F-35A in the field

4

5