The US Air Force (USAF) is working toward being able to update the Lockheed Martin F-16 fighter's software while the aircraft is in flight.
The service believes updating software on the fly will reduce fielding time to its fleet by 50%, it says on 12 May. The USAF has not disclosed how long it currently takes to update the software of an F-16.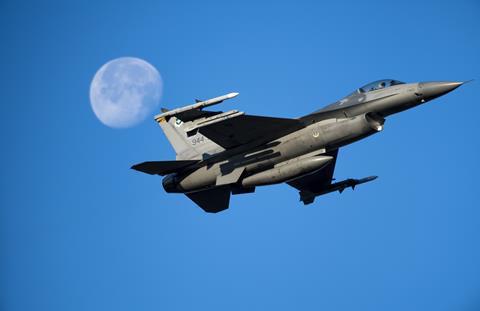 The new goal of in-flight software updates comes as the service uploaded the latest F-16 operational flight program, M-series 7.2+, in April to more than 600 USAF F-16s, including Block 40, 42, 50 and 52 variants.
"The $455 million programme fielded major capability upgrades such as the active electronically scanned array radar integration with the [Lockheed AGM-158] Joint Air-to-Surface Standoff Missile-Extended Range, as well as the latest [Raytheon AIM-120] Advanced Medium-Range Air-to-Air Missile, an integrated communication suite, and 42 other modernisation enhancements," says the USAF. The service claims the upgrade reduces pilot workload and improves close air support accuracy.
The USAF says M7.2+ will be the last software update for the F-16 developed using the conventional waterfall method, which delivers large chunks of updates after long development periods. Going forward, operational flight programs for the jet will be developed using an open source, agile method called DevSecOps. That is an initiative to closely coordinate the work of those responsible for a piece of software's initial development (Dev), cybersecurity (Sec) and operational usage (Ops).
"The advantages DevSecOps provides over waterfall are shorter development cycles, increased deployment frequency through continuous delivery, and more dependable releases through continuous integration, all in closer alignment with military objectives," says the USAF.
The agile software development method is an iterative approach that is widely used by Silicon Valley technology companies. It aims to make software updates in smaller chunks, versus the waterfall method which delivers code updates all at once after years of development.
"In terms of release cadence we'll be delivering new software to flight test every 13 weeks versus 18 [weeks], and new [operational flight programs] to the warfighter every two years versus every three to four years," says Lieutenant Colonel Paul Tinker, materiel leader for USAF F-16 development.
Ultimately, the service hopes the agile method would allow it to more quickly field new capabilities to the F-16 as threats from adversaries change.