The US Air Force's (USAF's) Agility Prime programme has signed a contract with start-up Electra Aero to build and flight demonstrate a prototype hybrid-electric short take-off and landing (eSTOL) aircraft in 2022.
The USAF's Agility Prime effort, launched in 2020, initially focused on accelerating development of commercial electric vertical take-off-and-landing (eVTOL) aircraft through funding and flight certification efforts. However, the funding of Electra Aero indicates the programme is expanding its scope to include other types of electric aircraft. In February, the USAF also funded development of Metro Hop's proprietary landing gear, designed to help short take-off and landing.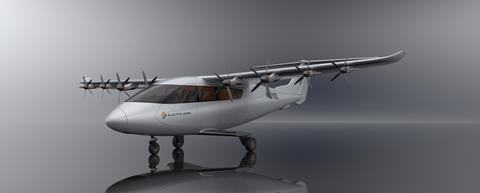 The service believes in-development civilian eVTOL and eSTOL aircraft could have dual uses. For instance, the USAF sees advantages in an eVTOL type's ability to autonomously and quickly move vital cargo – food, ammunition, fuel, and medical supplies – to disbursed groups of troops without putting pilots at risk. Because electric propulsion systems have fewer moving parts than internal-combustion engines, the type could be easier to support in the field.

Electra Aero is also developing a seven-passenger eSTOL aircraft for commercial commuter flights; the company's concept includes the possibility that it could operate from building-top runways within dense cities. The eSTOL aircraft would use a turbo-generator and eight electric motors powering propellers distributed along a thin wing. The electric-powered propellers would provide "blown-lift" over the wing to get the aircraft airborne with speeds as little as 26kt (48km/h) and a runway less than 46m (150ft) long, the company says.
The aircraft would have a cruise speed of 174kt and range of 434nm (805km). The company says it could be used for quick intra-urban trips or longer regional commutes. Electra Aero plans for its commercial aircraft product to be certified in 2026 under US Federal Aviation Administration Part 23 regulations.
"Electra is thrilled to be working in tandem with the US Air Force and its innovative Agility Prime team to accelerate the tech transition of eSTOL into the commercial marketplace," says Ben Marchionna, Electra Aero's director of technology and innovation. "These next-gen, low-carbon systems will solve several critical defence-related capability gaps while leveraging affordable commercial marketplace solutions."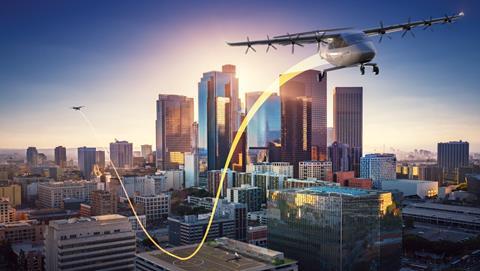 Electra Aero says it received a Phase II Small Business Innovation Research (SBIR) contract award worth $1.5 million from the USAF to build and fly a two-person demonstrator. The aircraft is to be powered by a 150kW (201hp) hybrid-electric propulsion system, comprised of a small turbo-generator, batteries, gearbox, rectifier, control system and custom software. It should be able to take off and land in distances as short as 30m.
The SBIR contract has a 15-month period of performance, with ground tests expected this year and flight tests in 2022, the company says.
The USAF-variant of Electra Aero's eSTOL aircraft could possibly include large, dual doors for easier cargo and personnel loading and unloading, and more robust landing gear for repeated landings and take-offs on austere and unprepared ground, Marchionna says. The service is also interested in external mounting points for sensor pods and a larger battery for extended battery-only phases of flight.
"Alternatively, it could be a larger fuel tank for greatly extended ranges while still getting the unique benefits of the electric propulsion system," Marchionna says.