The US Air Force's AGM-183A Air-launched Rapid Response Weapon (ARRW) boost-glide hypersonic missile failed to launch during a test on 28 July.
The Lockheed Martin-developed missile's booster rocket did not ignite, in what was the second failed launch attempt of the prototype weapon after an initial test in April also went awry.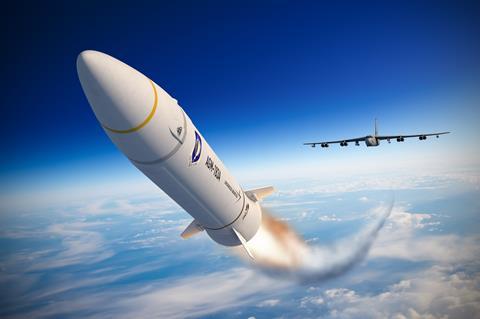 "An Edwards AFB [Boeing] B-52 released the ARRW test missile, dubbed Booster Test Vehicle 1b or BTV-1b, over Point Mugu Sea Range," the USAF said on 30 July. "Following the safe separation manoeuvres, the rocket motor did not ignite."
The service did not say if the missile was recovered or destroyed.
In April, the first free-flight rocket booster test of the missile failed after something went wrong during its launch sequence. That missile never left the B-52H Stratofortress that was carrying it and was safely returned to base.
The US Department of Defense is pursuing two types of hypersonic missiles: boost-glide missiles and scramjet missiles. Boost-glide missiles use a booster rocket to lift a warhead high into the atmosphere from where the weapon glides back to earth at hypersonic speeds. Scramjet-powered missiles fly at lower altitudes by ingesting and then igniting air from the atmosphere.
Both types of hypersonic missiles fly at Mach 5 or faster, a speed that ought to allow the weapons to dash past enemy air defences and destroy important targets that need to be hit within a small time window, for instance, nuclear ballistic missile silos, command-and-control centres or radar-guided surface-to-air missile batteries.
The USA is in a hypersonic missile arms race with China and Russia. Beijing and Moscow see hypersonic missiles as a way to a get a jump on Washington, as the M5-plus weapons can evade the existing US missile defence shield and travel so quickly that targets have little to no warning before impact.
Due to its similarities to ballistic missiles, the Pentagon sees boost-glide hypersonic missiles as potentially easier to develop and field. The USAF says that despite the two recent failures the ARRW programme "continues to track toward fielding a hypersonic capability in the early 2020s". The service is fast-tracking ARRW's development and testing. It is intended to be the USA's first produced and fielded hypersonic missile.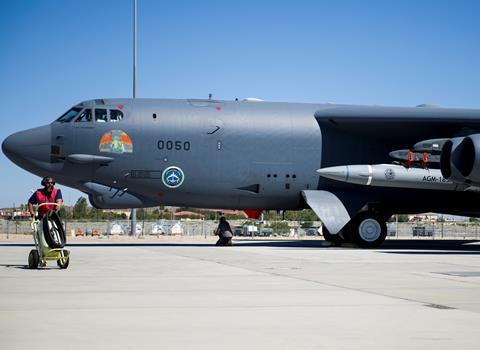 The USAF says other parts of the ARRW launch sequence were successful.
"The missile cleanly separated from the aircraft and successfully demonstrated the full release sequence including GPS acquisition, umbilical disconnect and power transfer from the aircraft to the missile," says the service. "The missile also demonstrated fin operation and de-confliction manoeuvres which ensures a safe operation for the aircrew."
The USAF says it is examining what went wrong with ARRW's ignition in order to find a potential fix.