The US Marine Corps (USMC) has declared initial operational capability (IOC) for its fleet of Lockheed Martin F-35C carrier variants.
The declaration was made by the Marine Fighter Attack Squadron 314, based at MCAS Miramar in California, the service said on 2 December.
The USMC's move comes after the US Navy (USN) declared IOC for its F-35Cs in 2019. The USMC and USN are the only F-35C operators.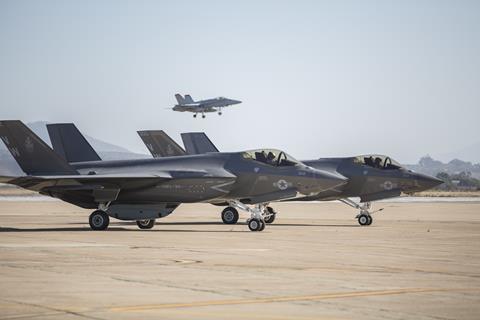 The carrier variant of the F-35 can land on the USN's nuclear-powered aircraft carriers – the Nimitz and Gerald R Ford classes. The USMC also is buying the F-35B short take-off and vertical landing variant, which can launch from and land on both large carrires and smaller amphibious assault ships.
F-35Bs and Cs will replace the USMC's McDonnell Douglas AV-8B Harrier IIs and Boeing F/A-18 "Classic" Hornets, respectively. The aircraft will also replace now-retired Northrop Grumman EA-6B Prowler electronic warfare aircraft.
"The F-35 is an expeditionary platform that extends the reach of our Marines and machines, and increases our ability to support joint and allied partners at a moment's notice," says Major General Christopher Mahoney, commanding general of the Third Marine Aircraft Wing. "By effectively employing the F-35, [Marine Air-Ground Task Force] commanders have the potential to dominate our adversaries in a joint battlespace, in the air and out at sea."
Though they cannot land on the short decks of amphibious assault ships, F-35Cs are more capable than the F-35B in range and payload. Those abilities are seen as vital for countering the Chinese military across the vast distances of the Western Pacific.
For example, F-35Cs can carry a weapon payload of 8,160kg (18,000lb), about 20% more than F-35Bs. In terms of its internal weapons bays, F-35Cs can carry two 907kg-class bombs and two Raytheon AIM-120 AMRAAM air-to-air missiles. F-35Bs can carry the same number of AMRAAMs, but only two 453kg-class bombs. And, the F-35C has a combat radius of 600nm (1,110km), compared to 450nm for the F-35B.
"The F-35C provides critical flexibility and persistence operating from conventional aircraft carriers or land bases," the service says in its 2019 Aviation Plan.
The USMC plans to buy 420 F-35s: 353 F-35Bs and 67 F-35Cs.