A US Marine Corps (USMC) Lockheed Martin F-35B stealth fighter and Lockheed KC-130J tanker collided and crashed during a refuelling exercise in Southern California on 29 September.
The crew of both aircraft survived, says MCAS Yuma, the Arizona base where the aircraft were stationed.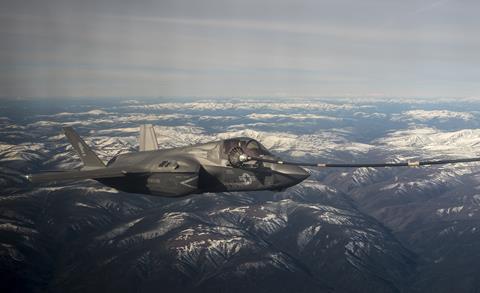 "At approximately 16:00 it was reported that an F-35B made contact with a KC-130J during an air-to-air refueling evolution, resulting in the crash of the F-35B. The pilot of the F-35B ejected successfully and is currently being treated," says the air station. "The KC-130J is on deck in the vicinity of Thermal airport. All crew members of the KC-130J have been reported safe."
Thermal airport, known formally as Jacqueline Cochran Regional airport, is a municipal airport in the Southern California desert, about 94nm (175km) northwest of Yuma. Photos online of the KC-130J show that the tanker made a hard landing in a field outside of Thermal airport.
For air-to-air refuelling, the KC-130J uses a hose and drogue. The system is essentially a long tube trailed from the wing of the aircraft with a shuttlecock-like basket at the end which contains a fuel valve. The recipient aircraft, in this case an F-35B, uses a pop-up probe to connect to the drogue and draw fuel.
The crash occurred during daylight hours in California.
The cause of the accident is currently under investigation, says the USMC.