The US Navy (USN) and Royal Australian Air Force (RAAF) have ordered 11 more Boeing P-8A Poseidon maritime patrol aircraft, for $1.6 billion.
The RAAF ordered two of those jets, bringing its number of P-8As under contract to 14, while the USN ordered nine, bumping its number of P-8s under agreement to 128, Boeing said on 31 March.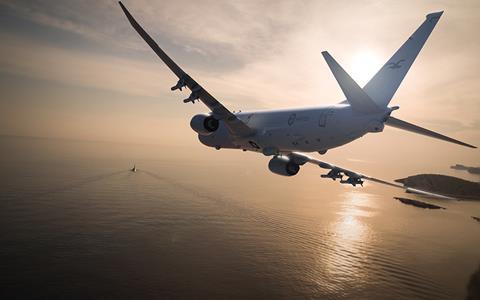 "The P-8A continues to be an invaluable asset and these additional aircraft will help deliver expanded maritime patrol and reconnaissance capabilities to the fleet," says Captain Eric Gardner, programme manager for the USN's Maritime Patrol and Reconnaissance programme office.
P-8As are land-based anti-submarine and anti-surface ship jets designed for intelligence, surveillance and reconnaissance missions. They carry sensors including synthetic aperture radar and electro-optical and infrared camera. P-8s have a 1,200nm (2,200km) flight radius including 4h on station, and inflight refuelling capability.
The aircraft, based on the Boeing 737NG commercial airliner, has a bomb bay and weapons pylons on its wings to carry Boeing AGM-84 Harpoon anti-ship missiles and Mark 54 lightweight torpedoes. It has capacity to carry 129 A-size sonobuoys.
P-8 customers include the Indian navy, RAAF, Royal New Zealand Air Force, Royal Norwegian Air Force, Republic of Korea Navy, UK Royal Air Force and USN. The Indian navy operates a unique variant of the aircraft called the P-8I.
In March, the US Department of State approved a possible Foreign Military Sales deal for five P-8As to Germany for an estimated cost of $1.77 billion. That contact has yet to be finalised.
P-8As typically replace ageing Lockheed P-3C Orions – smaller turboprop maritime aircraft designed and manufactured during the Cold War.
The P-8A reached initial operational capability in 2013 and is expected by the USN to reach full operational capability by 2023.