The US Navy's Next Generation Jammer Mid-Band development pod finished initial testing in an anechoic chamber, a special room designed to absorb electromagnetic waves.
The Raytheon-made radar jammer completed more than 400h of basic functionality, electromagnetic environmental effects data collection and performance testing over a period of three months, says US Naval Air Systems Command. Tests were performed at the Air Combat Environmental Test and Evaluation Facility anechoic chamber at Naval Air Station Patuxent River in Maryland.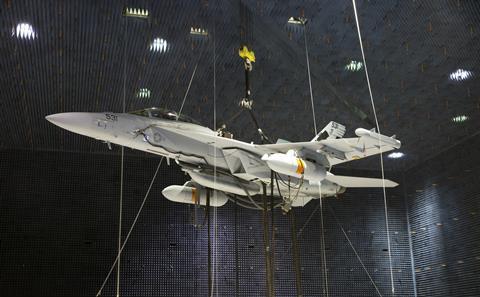 The Jammer Mid-Band pod is the US Navy's (USN) latest jamming system. It is to ride under the wing of the Boeing E/A-18 Growler electronic attack aircraft and disrupt adversary radio communications and radar-guided missile systems.
"Data captured during this period not only supports our initial flight clearance, but also provided lessons learned that will benefit the entire [Next Generation Jammer Mid-Band] test programme moving forward," says Captain Michael Orr, Airborne Electronic Attack Systems programme manager.
The USN plans for the Jammer Mid-Band pod to enter flight testing this spring. The service it projecting the programme will reach Milestone C, the engineering design review prior to production, before the end of this fiscal year.
The new jammer uses an active electronically scanned array, instead of a mechanically-steered transmitter, which increases the systems performance.
Raytheon says the system can jam targets at further distances and attack multiple targets at once.
The Jammer Mid-Band pod also was designed with an open systems architecture and modular design, which should allow for rapid upgrades, says the manufacturer. Quicker upgrades are important to help the USN keep pace with adversaries such as China and Russia who will likely adjust tactics and methods to avoid being jammed.
The Jammer Mid-Band pod is intended to disrupt radar and communication in the mid-band frequency range. It will be initially paired with the USN's the legacy ALQ-99 Tactical Jamming System, until new low- and high-band jammers are developed and deployed, says the service.